Project Sunshine had a summer filled with exciting activities, successful events, and fruitful partnerships. Check out the summer highlights from across the organization!
Volunteer Engagement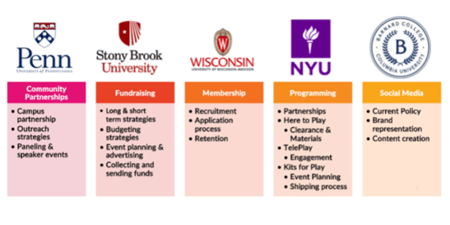 This summer, the Volunteer Team launched a new mentorship program for college chapters. Through a rigorous selection process involving nominations, applications, and interviews, five outstanding Mentor Chapters were chosen to assist other chapters in five categories: community partnerships, fundraising, membership, programming, and social media. Mentor Chapters will provide guidance about building partnerships, strategizing outreach plans, managing events, budgeting, recruiting and retaining volunteers, and representing Project Sunshine's brand through social media platforms.
Congrats to our Mentor Chapters:
University of Pennsylvania
SUNY Stony Brook University
University of Wisconsin-Madison
New York University
Barnard College and Columbia University
Corporate Partnerships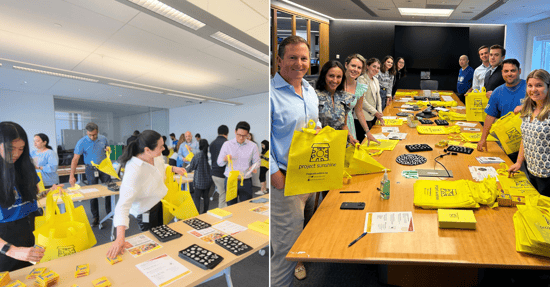 In June, we organized 48 events with 2,363 volunteers who packed 27,550 activity kits. Akili Interactive, Morgan Stanley, General Atlantic, Dentons, and Trinity Life Sciences brought their teams together to foster collaboration across multiple offices. This collective effort had a powerful and positive influence on all the teams involved and the patients we serve.
In addition, as part of RBC Capital Markets' Charity Day for the Kids, RBC employees all across the country in New York, New Jersey, Dallas, Los Angeles, and San Francisco packed activity kits. We were honored to have been selected by RBC employees to be their featured nonprofit and received $225,000 to support healing play.
"Project Sunshine took the lift out of planning our large-scale volunteer event. It was simple and seamless to set up. This gave our Corporate Citizenship team space to refocus on building engagement with our volunteers and highlighting the importance of helping sick children find moments of joy during their hospital stay."
-Connor Krone, RBC Corporate Citizenship
Development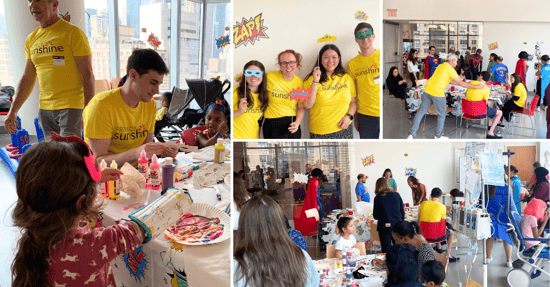 In July, Project Sunshine Board Members Matt Skurbe, Natan Bibliowicz, and Gireesh Sonnad, along with our staff, hosted a party for 30 children and their caregivers at NYU Hassenfeld Children's Hospital. The theme of the party was "Superheroes" and patients got to decorate their own capes and shields, play superhero games, and take photos at the Superhero-themed photo-booth. This event was a part of the hospital's "Camp Week," where children receiving in-patient care immersed themselves in the magic of a camp-like experience. It was important to create a sense of normalcy and reduce stress for both pediatric patients and their families through connection and laughter. We thank our board members for taking time to volunteer with us and NYU Hassenfield Children's Hospital for welcoming us into the playroom!
Pediatric Experience
In December 2022, Project Sunshine was awarded a generous grant by the Kentucky Association of Health Plans, which will allow us to conduct our first ever research study to assess the effectiveness of TelePlay. Starting this fall, we will be partnering with Norton Children's Hospital and Kentucky Children's Hospital as volunteers conduct TelePlay programming seven days a week, in both inpatient and outpatient settings. We're thrilled for this opportunity and look forward to sharing the results of the study.
Our network of medical facility partnerships participating in our Here to Play program also expanded this summer to 68 active partners and 61 partnerships in the pipeline. This has been the result of actively reaching out to existing partner facilities to grow their program offerings, finding new facilities to partner with, and assessing volunteer availabilities. Many of these facilities are current partners who were eager to deepen their engagement with Project Sunshine. We look forward to these new partnerships that will allow Project Sunshine volunteers to bring play to children in hospitals!
International Programs
Canada: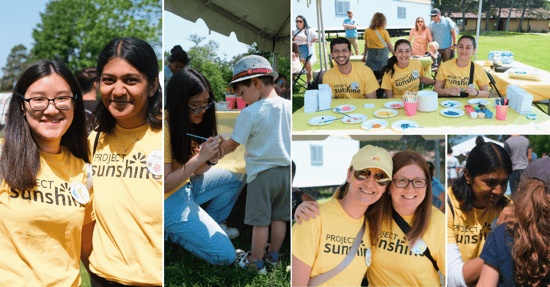 On June 4 at Earl Bales Park, 10 Project Sunshine volunteers supported Mount Sinai's Annual NICU Picnic, a special event organized for families with children that had been cared for in the Neonatal Intensive Care Unit. This event was a wonderful celebration after the long hiatus due to the pandemic, filled with laughter and joy as we organized a variety of engaging activities, including mini canvas and face painting, button making, and other arts and crafts.
In July, the Durham Regional Police Station hosted its 16th Annual RIPPLE Effect Youth Forum to empower the youth to implement positive changes in their community. At the forum, Project Sunshine Canada organized a kit-packing event where 450 participants packed 1,200 kits and recruited new volunteers!
Israel: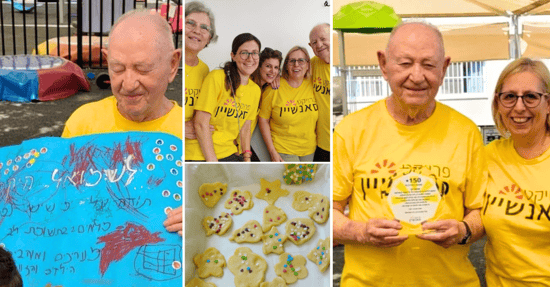 After dedicating more than 150 hours of service to the children at Tel Hashomer kindergarten and hospital, Shmuel Tuval shared his retirement news with us at the age of 83. In gratitude, Project Sunshine organized a celebration to honor his incredible service. This special event coincided with the end of the school year celebration at Tel Hashomer, making it a truly memorable occasion.
Kenya: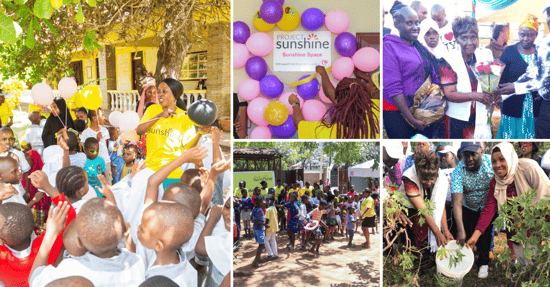 Project Sunshine Kenya launched two brand new sites at Bomu Hospital's satellite clinic in Timboni and at Al Walidayn where children and families enjoyed crafts, music, and more. We are grateful to the Shokooh Foundation for their support in expanding our programs to these locations and providing healing play to a new population.
Additionally, on July 15, 34 current and former volunteers visited longtime volunteer, 73-year-old Mama Victoria Karume in her home in western Kenya. Mama Victoria has been a pillar of strength at Bomu Hospital since 2001, actively coordinating activities for volunteers. Her leadership played a vital role in shaping the Project Sunshine Kenya volunteer base when it was established in 2006. As the volunteers arrived at her home, Mama Victoria said, "Looks like I planted a good seed." The visit was a celebration, filled with lunch, cake, music, and a campfire with stories. The volunteers even planted their own seed outside Mama Victoria's house to symbolize the enduring impact of Project Sunshine Kenya.