Join our sunny squad
Explore a career at Project Sunshine! We are looking for passionate individuals to join our mission-driven organization and help us bring the healing power of play to children and families who are coping with medical challenges.
Manager, Technology
Position: Manager, Technology
Type: Full Time (hybrid in NYC; remote option)
Reports to: Chief Operating Officer
Salary: $70,000 - $85,000

About Project Sunshine:
Project Sunshine's mission is to bring connection and joy to children with medical needs through dedicated volunteers who deliver the healing power of play. For over 20 years, Project Sunshine volunteers have brought joy and play directly to pediatric patients through our network of medical facility and nonprofit partners across the country. Our programs include in-person play with patients called Here to Play, curated activity kit deliveries called Kits for Play, and live, virtual play sessions called TelePlay.
Over 16,000 trained volunteers deliver programs that provide opportunities for creative expression, socialization, intellectual stimulation, and sensory integration to more than 200,000 pediatric patients and families each year. Our unique volunteer engagement model allows community groups, colleges, and corporations to create moments of connection with pediatric patients, caregivers, and families providing child and family-centered, play-based programming. Project Sunshine partners with 475 medical facilities across the U.S. and in four international locations.
About the Position:
The primary role of the Technology Manager is to be the central source of management for all of Project Sunshine's technology solutions and vendors. Over the past 3 years, Project Sunshine's technology needs have grown, and with that, we are seeking someone who can take a strategic lens to the bigger picture of our technology landscape as well as liaise with our internal staff to provide solutions and guidance for their daily use of technology.
The Technology Manager will work closely with the COO to set short and long-term strategic goals for organizational technology, evaluate the priorities of the internal staff, and translate overall needs and enhancements to the appropriate vendors. The ideal candidate will be a natural problem solver, solutions oriented, and comfortable in a player-coach role with the rest of the team.
Project Sunshine works with several vendors that provide ongoing support for Salesforce and IT needs, and the Technology Manager will work with these vendors to evaluate and manage their workload and develop longer term plans for upgrades, enhancements, and sunsetting outdated solutions. This is a role that has potential for growth over the next several years for the right person who is ready to dive into the work at the ground level, take a long-term strategic view, and who wants to be a part of Project Sunshine's growth.
Principle Responsibilities:
Manages day-to-day support of IT needs and issues including onboarding, offboarding, account access, troubleshooting issues, and software support of enterprise systems (For example, Teams, Office 365, Salesforce, printers, etc)

Works closely with and evaluates Managed Service Providers to maintain high standards of service

Researches, recommends, plans, and deploys all new software and technology

Creates, updates and manages IT policies and procedures

Ensures (in partnership with MSP) business continuity of operations

Collaborate with internal stakeholders and ensures systems integrations (Salesforce, finance, etc)

Oversees regular cybersecurity training programs for staff

Reviews invoices and contracts

Reviews and procures enterprise-wide technology solutions in partnership with MSP

Oversees short- and long-term hardware management, works with vendors as needed, and provides direction internally

Manages IT, Cybersecurity (in partnership with service providers) & Systems/resources related costs

Ensures data fidelity and drive data management initiatives

Ensures and facilitates coordination between vendors, consultants, and internal stakeholders

Manages and supports a hybrid working environment of staff (local and based as well as remote staff) and their IT needs

Defines future staffing requirements for technology team and vendors

Generates quarterly IT Health Report to update Project Sunshine Technology Committee members on the overall status of Project's technology systems
Qualifications:
Demonstrated success in managing IT functions, including computer operations, systems development, voice and data communications, database management, and systems security

Proven experience effectively managing and participating in a technological partnership with internal and external IT resources

Excellent organizational and time management skills

Experience with data management, architecture, and visualization

Sharp analytical and problem-solving skills

Creative thinker with a vision

Relentless pursuit of providing outstanding customer experience

Outstanding communication, presentation, and leadership skills

Collaborative and solution oriented

Strong documentation and training skills

Demonstrated ability to communicate about technology to non-tech audiences, especially in communicating the business reasons for decisions and how the technology fits into the larger organization's goals

Previous success working closely and building relationships with diverse groups of people

Effectiveness in working or volunteering in a non-profit organization that is focused on maintaining high quality work and low overhead

Proven attention to detail

Education: Bachelor's degree in information technology, Computer Science-related field or equivalent experience

Minimum of 6 years of experience in IT and systems management

Experience: Cloud-based systems, Salesforce
To apply, please send a resume and cover letter to Katy Kienitz, Chief Operating Officer, at hr3@projectsunshine.org
Project Sunshine values a diverse workplace and strongly encourages women, people of color, LGBT individuals, people with disabilities, members of ethnic minorities, foreign-born residents, and veterans to apply.
Project Sunshine is an equal opportunity employer. Applicants will not be discriminated against because of race, color, creed, sex, sexual orientation, gender identity or expression, age, religion, national origin, citizenship status, disability, ancestry, marital status, veteran status, medical condition or any protected category prohibited by local, state or federal law. In compliance with federal law, all people hired will be required to verify identity and eligibility to work in the United States and to complete the required employment eligibility verification form upon hire.
Thank you for your interest. There are currently no open positions. Check back soon!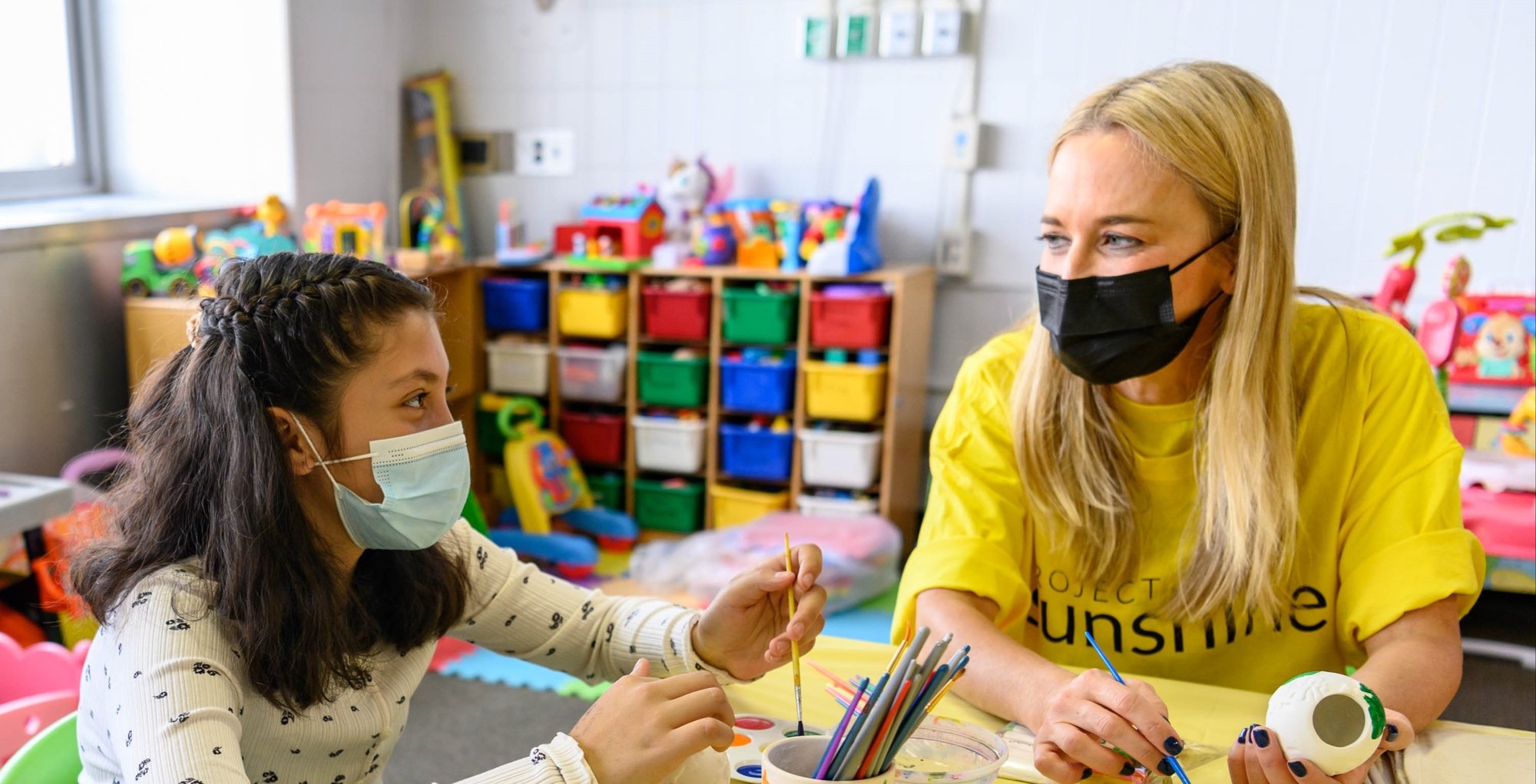 Diversity, Equity, and Inclusion
DEI Commitment
Project Sunshine is committed to creating and sustaiing an inclusive organization that can better serve the needs of a diverse group of children and families.