Corporate Social Responsibility
Give back with your company
Our 
Corporate
Partners
are committed to fulfilling the Project Sunshine mission alongside their colleagues. We partner with companies of all sizes and industries nationwide. Through customizable opportunities for community service and
team building
,
both in
office
and remotely
, our corporate volunteers take a break from their day-to-day responsibilities to make a difference in a child's life.
Corporate groups can pack activity kits,
participate
in hospital visits,
and more!
Get started by filling out our Corporate Inquiry form: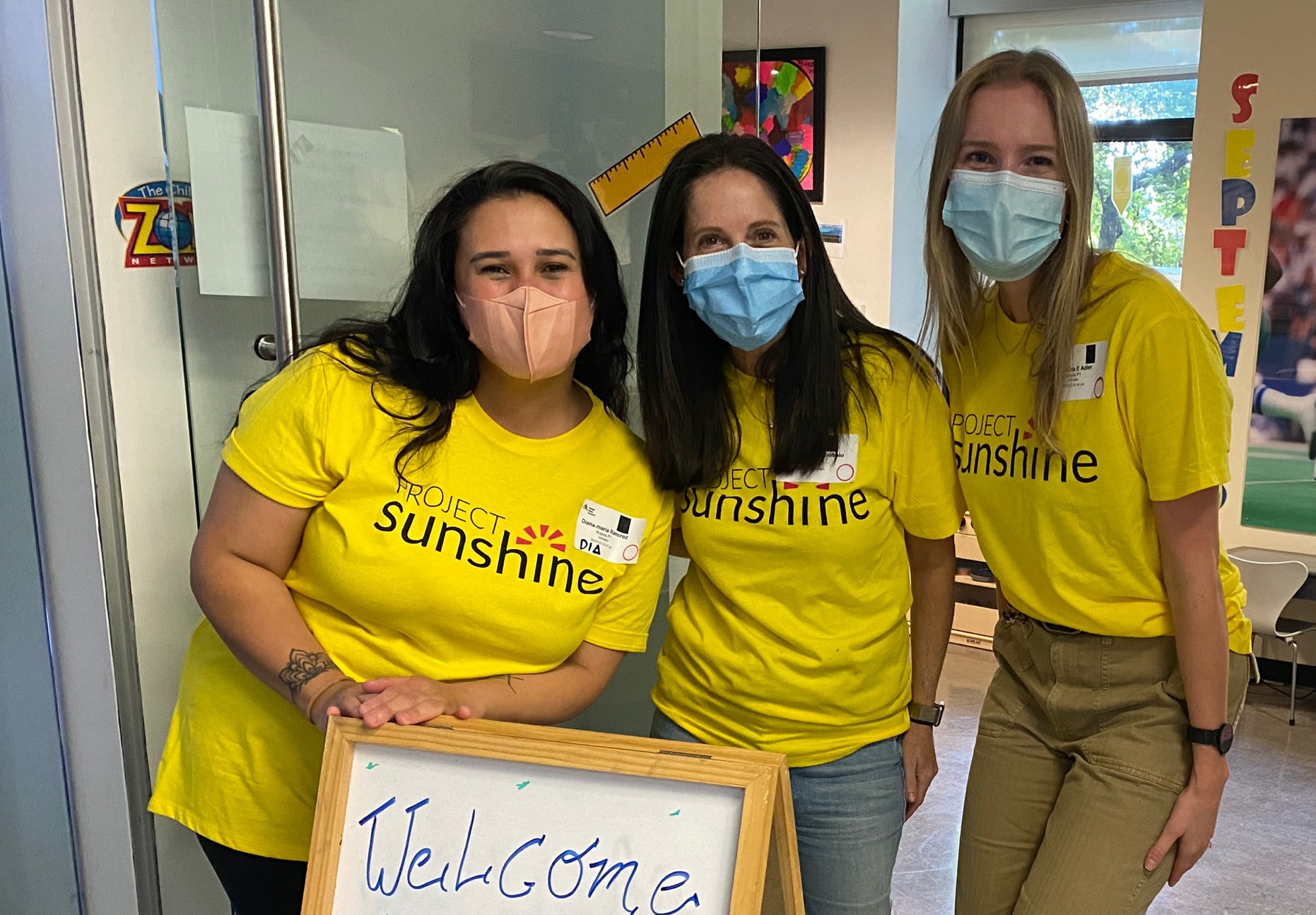 See our popular volunteer offerings below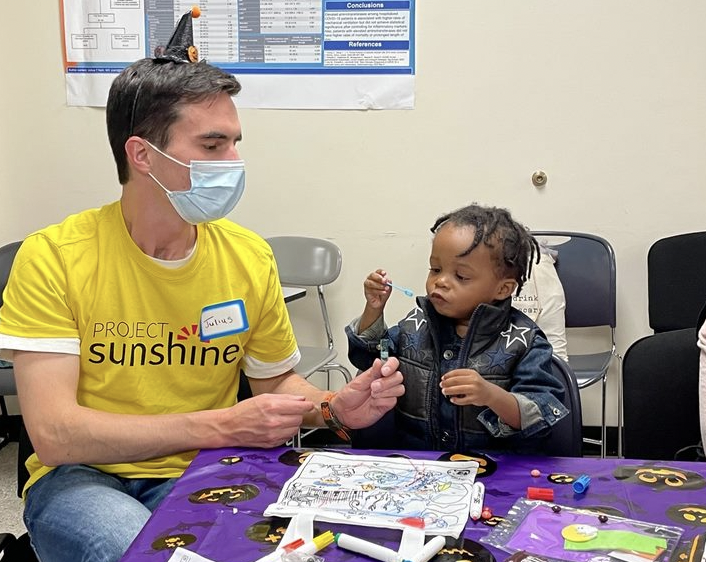 Here To Party
Here to Party events bring arts and crafts and companionship to children with medical challenges by transforming a hospital playroom into a party. Each hospital event is customized to fit the needs of the medical facility. You can also set up a corporate chapter for regular, recurring in-person volunteering.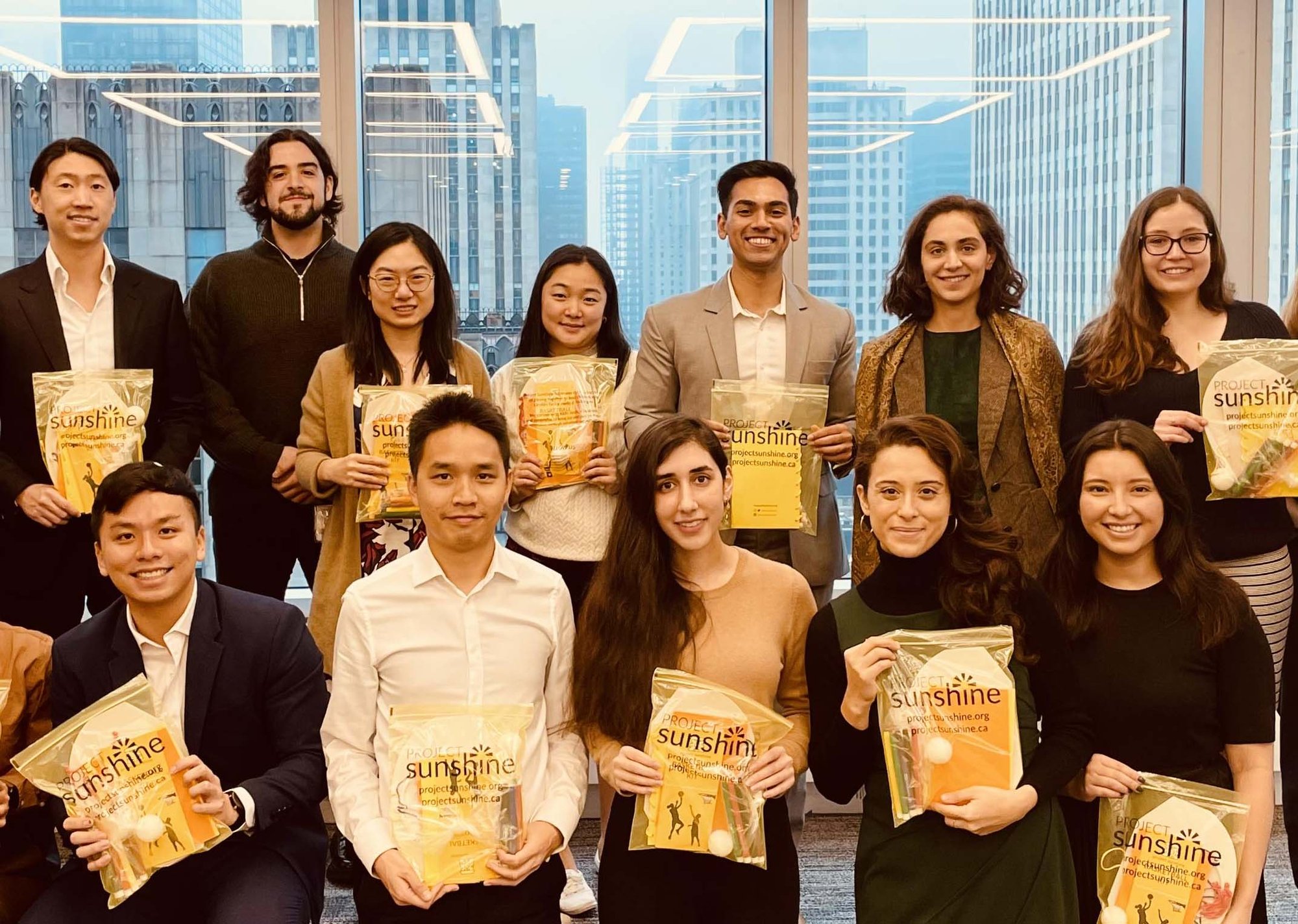 Kits For Play
Assemble activity kits that contain supplies for therapeutic craft activities for children with medical challenges. Each kit contains developmentally-appropriate activities and are distributed to patients when volunteers and professionals cannot be present. This is a great way for your team to connect with one another as they work together as a group to pack the materials.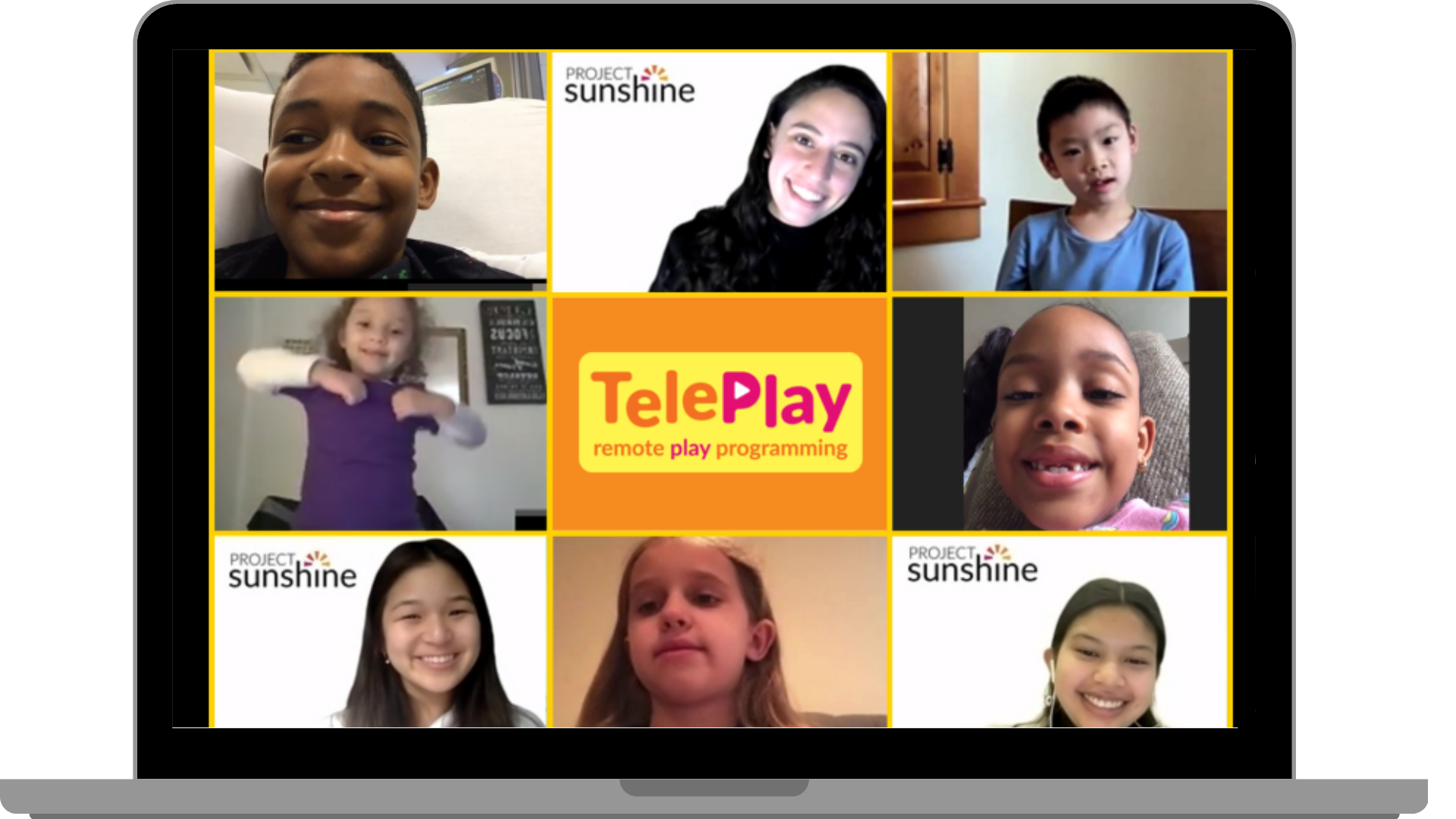 TelePlay
Project Sunshine's TelePlay program is a live play experience, using a HIPAA compliant technology platform. As a volunteer, you'll lead activities and games developmentally appropriate to a small group of children facing medical challenges in or out of the hospital.
Interested in one of our volunteer offerings?
Fill out our Corporate Inquiry Form to learn more about these opportunities and schedule a volunteer event for your company.
Partnership Spotlight
bubly Sparkling Water x Project Sunshine
We teamed up with bubly Sparkling Water to create customized Activity Kits that provide self-expression, imagination, and joy to the healing process for pediatric patients all around the U.S.
Corporate Inquiry Form Volunteer with your company today!
Thank you for interest in becoming a Project Sunshine Corporate Partner. Please fill out the form below and a member of our team will reach out to you as soon as possible.

I had the best day volunteering with Project Sunshine! The activities were organized and appropriate for all ages, which made my job as a volunteer easier. It made me feel great to be able to give back. I left with a smile on my face, knowing that I made children smile."

For events where staff are inviting clients, I found that people bonded well and worked together while working on the same kit. Both internal and external folks really loved it."

It was truly a pleasure to work with Project Sunshine and to support such a meaningful cause. Our members were thrilled with the event, and we look forward to the possibility of partnering together again in the future."
Why does corporate volunteering matter?
According to the 2017 Deloitte Volunteerism Survey, by creating a culture of volunteerism, companies can promote workplace morale and improve brand perception. Community service is also correlated with improved physical and mental health – 93% of participants of the 2017 Doing Good Is Good for You Study note an improvement in mood directly after volunteering.
My company has an Annual Day of Service. Is this something Project Sunshine can accommodate?
We sure can! Project Sunshine can customize volunteer opportunities for companies of all different sizes, industries, and locations. Kindly complete our Corporate Inquiries form, and we will get back to you with more information.
How many employees can participate?
The average number of volunteers for a Here To Party event is 5-10 people. The average number of volunteers for a Kits for Play event is 25-50, but this program is scalable, and we've customized volunteer events for up to 800 people.
How far in advance do we need to plan our volunteer project?
Please allow for one month lead time for office-based Kits For Play events and two months for hospital-based Here to Party.
What is a typical schedule for a day of volunteering?
For Kits for Play events, we recommend 60-90 minutes for each volunteer to impact 12-15 pediatric patients and family members. Because these events are held on-site at the company's location, there is flexibility around the time of day scheduled. All Here to Party events run about 3 hours in total (not including transportation to the hospital site): 1.5-2 hour programs with 30 minutes of prep and 30 minutes of clean-up.
Where will we volunteer?
That's up to you. We can facilitate volunteer programs at company offices, off-site locations, conference centers, and employees's homes for remote volunteer events. Here to Party events take place at one of our 475 medical facility partners near you.
Will Project Sunshine provide photos of our volunteer project?
Absolutely! We love to capture the magic that happens when spreading sunshine. (Photographs are only snapped and shared when consented, of course). If you choose to take photos, we encourage you to tag us on your social media outlets.
How much does it cost and what does that cover?
All corporate volunteering events require a donation that covers staff management and facilitation, procurement, and distribution of materials, and shipping costs.