Bring compassion with your community
Local Volunteer Opportunities
By volunteering, you can make a crucial difference in the lives of pediatric patients and their families. Give back to your local community, expand your personal network, and connect with other kind-hearted volunteers through remote and on-site volunteer opportunities.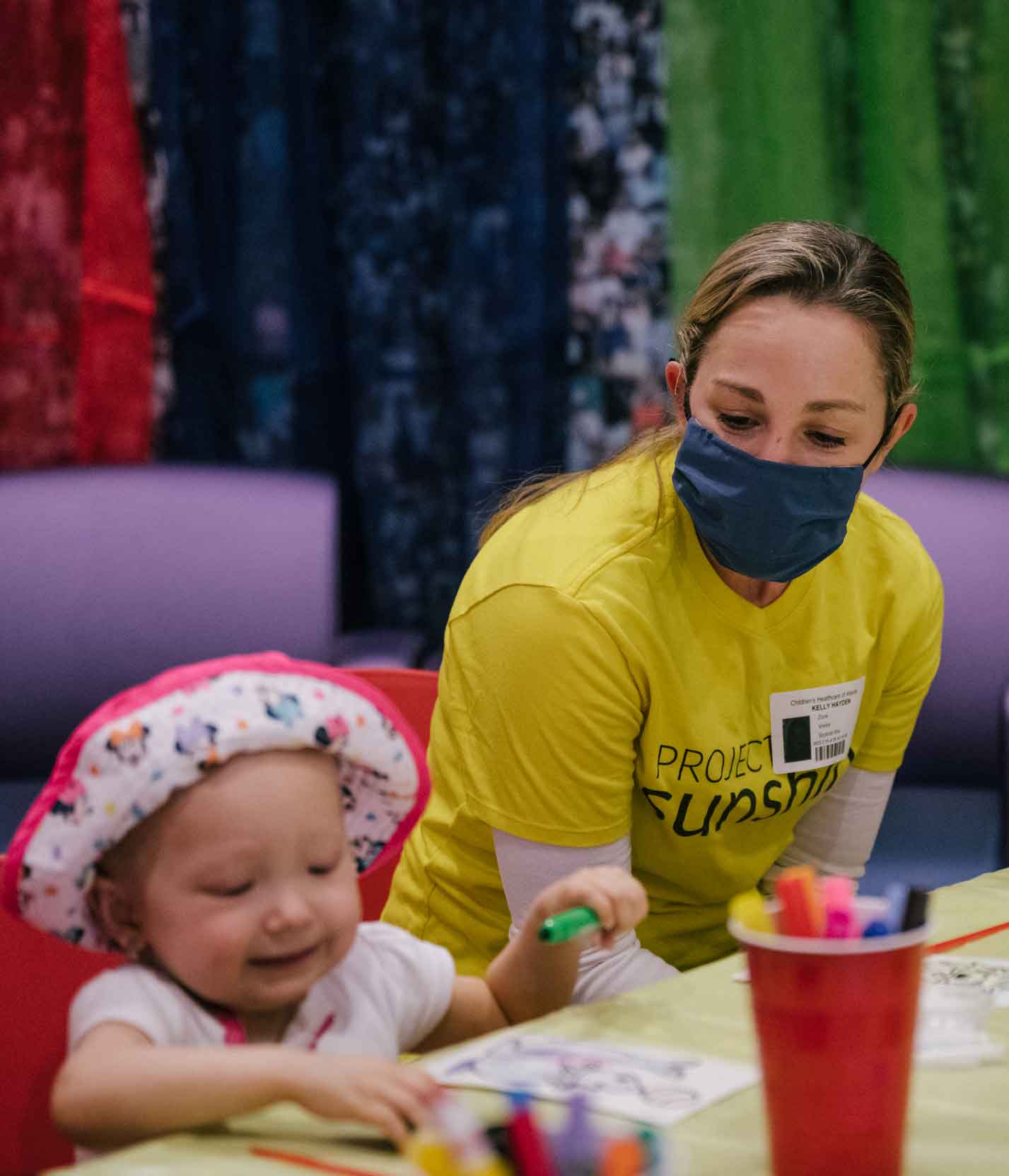 As a community volunteer, you will be able to: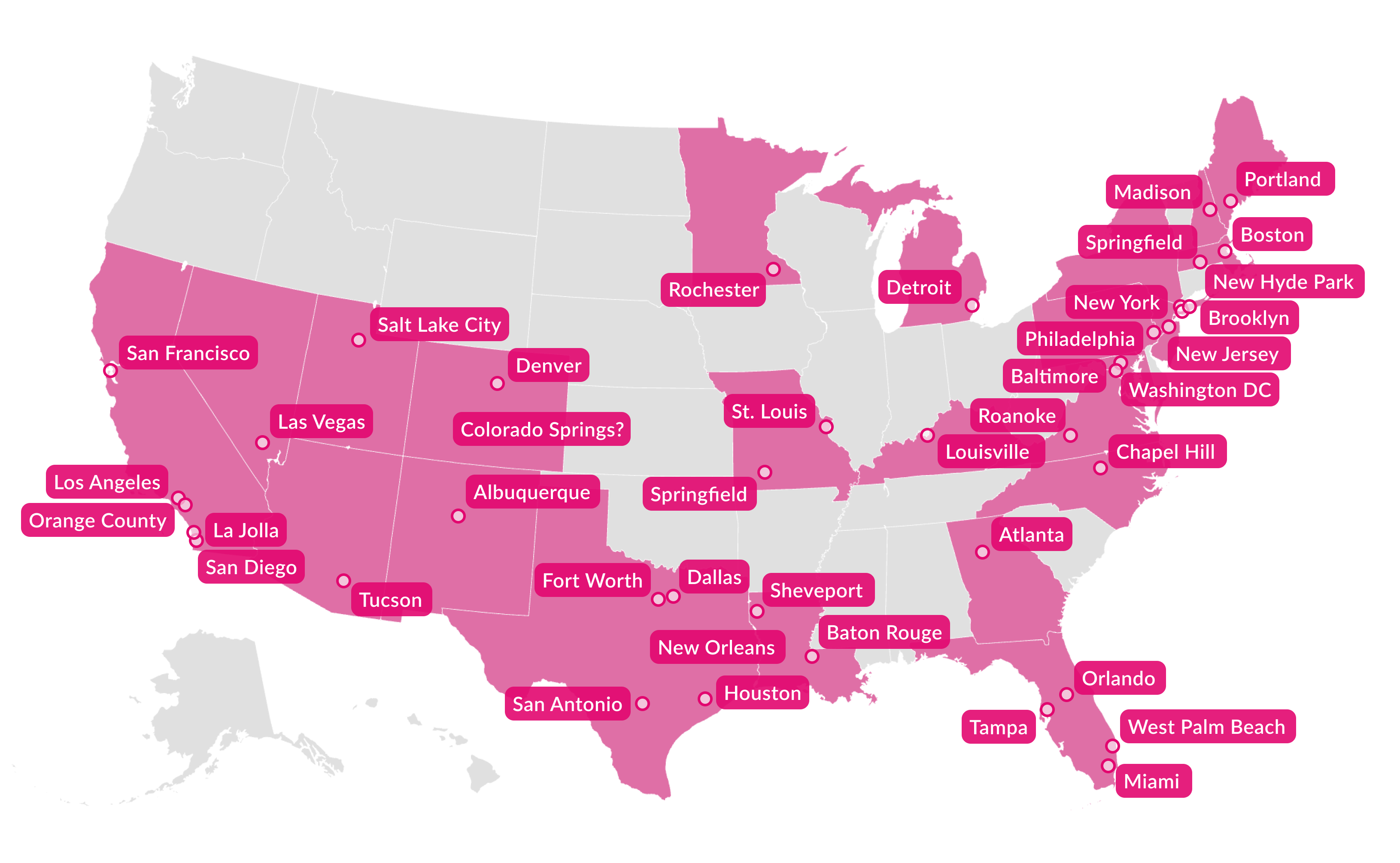 Project Sunshine has active community chapters in 26 cities nationwide. Chapters participate in volunteer program activities, organize events, and fundraise on campus to support Project Sunshine's mission.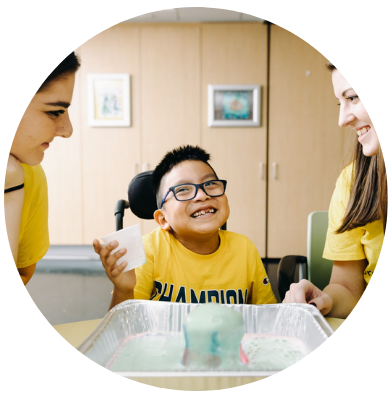 Here To Play
Equipped with arts and crafts activities, volunteers facilitate play sessions with pediatric patients in medical facilities.These activities contain developmentally appropriate materials and instructions, while encouraging self-expression and imagination for the children. In addition to our comprehensive training, volunteers complete hospital-specific clearance processes.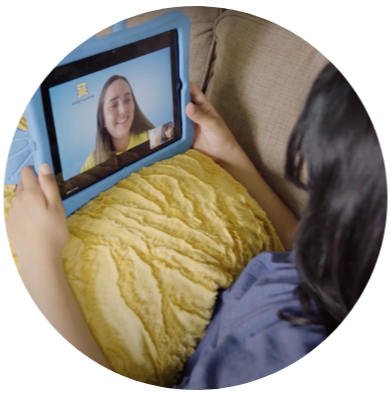 Teleplay
Volunteers deliver a live, interactive play experience over video conference using HIPAA-compliant technology. Teleplay connects isolated children to one another, and is available to any child facing medical challenges, whether at home or at the hospital. Volunteer play developmentally appropriate games and activities, increasing joy and emotional relief.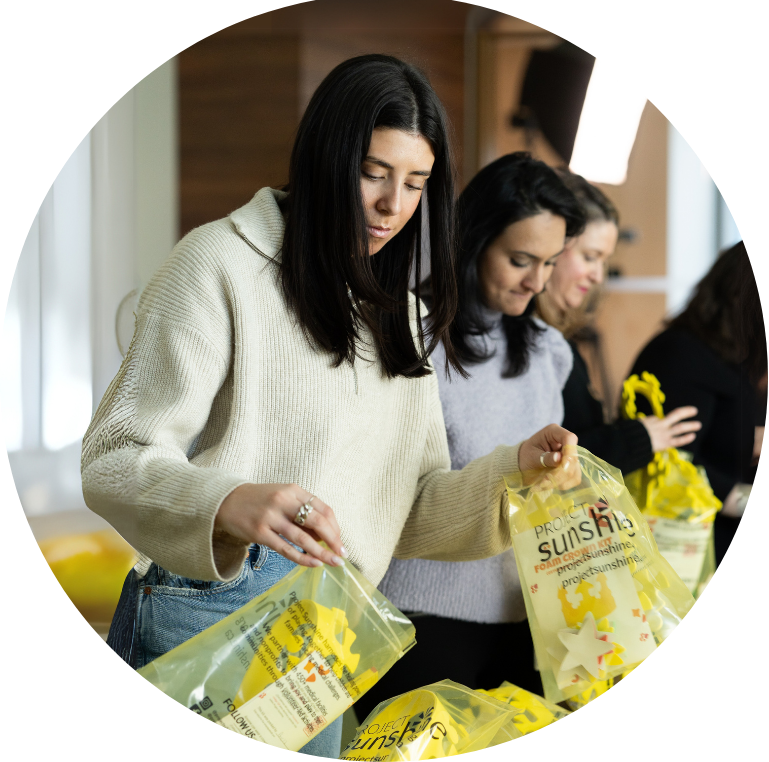 Sending Sunshine
Volunteers assemble our activity kits to be sent directly to pediatric patients. Project Sunshine activity kits are designed by child life specialists, and developed in partnership with pediatric healthcare experts. These kits contain materials that provide therapeutic value to the emotional and physical healing process.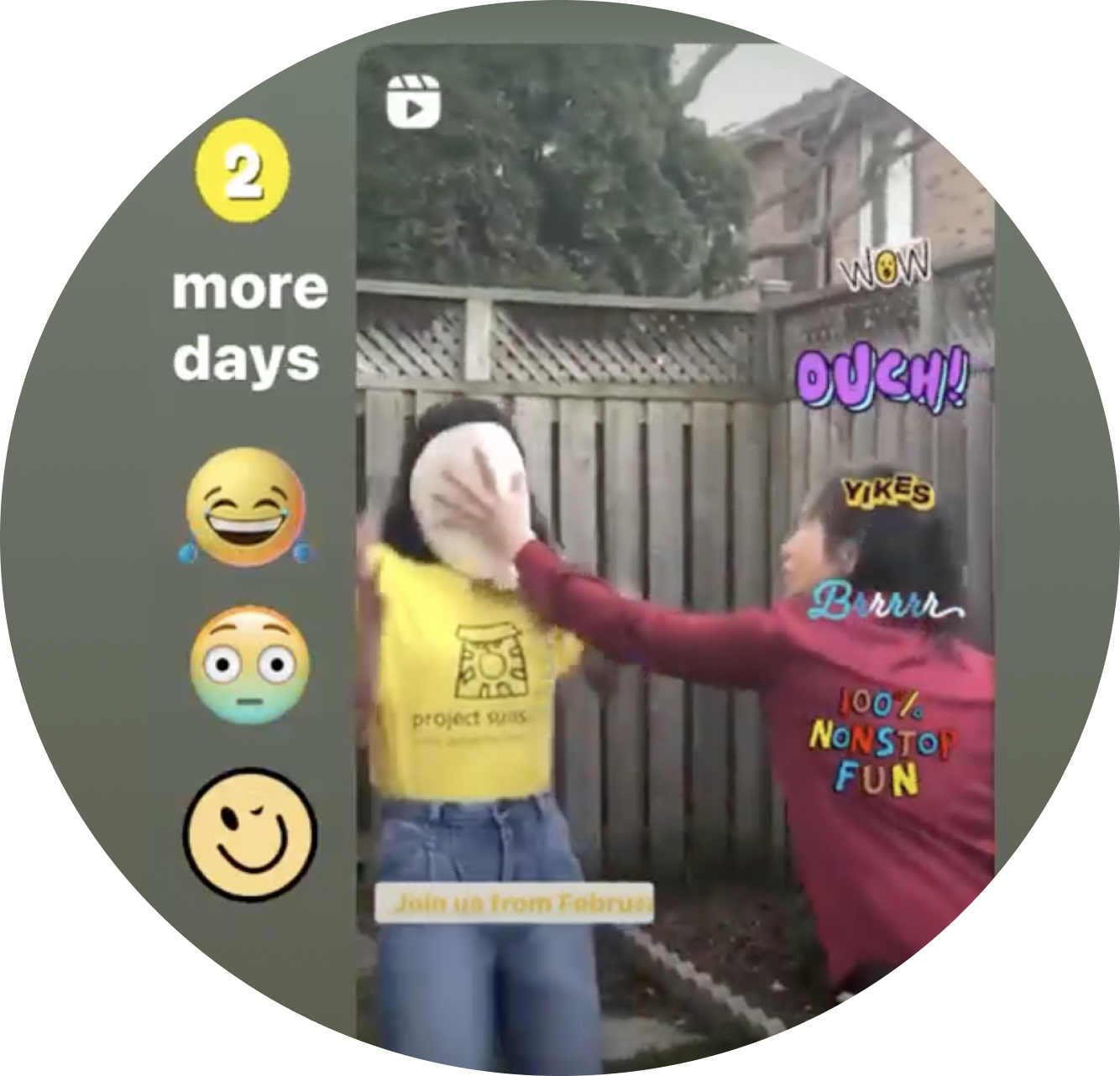 Fundraising
Fundraising for Project Sunshine is a great way to support our causes and initiatives domestically and internationally. Contact us for further details.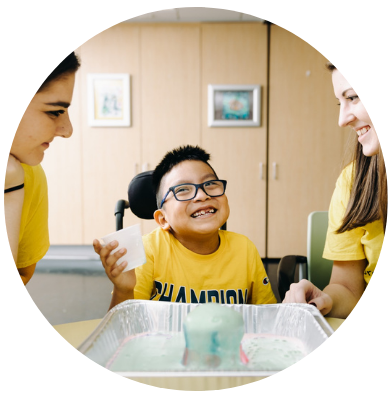 Here To Play
Volunteers play and interact with children, families, and medical facility staff at a local hospital.
Project Sunshine provides volunteers and medical staff with themed arts and crafts materials that are shipped directly to the medical facility.
Here To Play sessions can be held in a hospital play room for larger group activities or at bedside for one-to-one patient-volunteer interaction.
Each session lasts about 2 hours.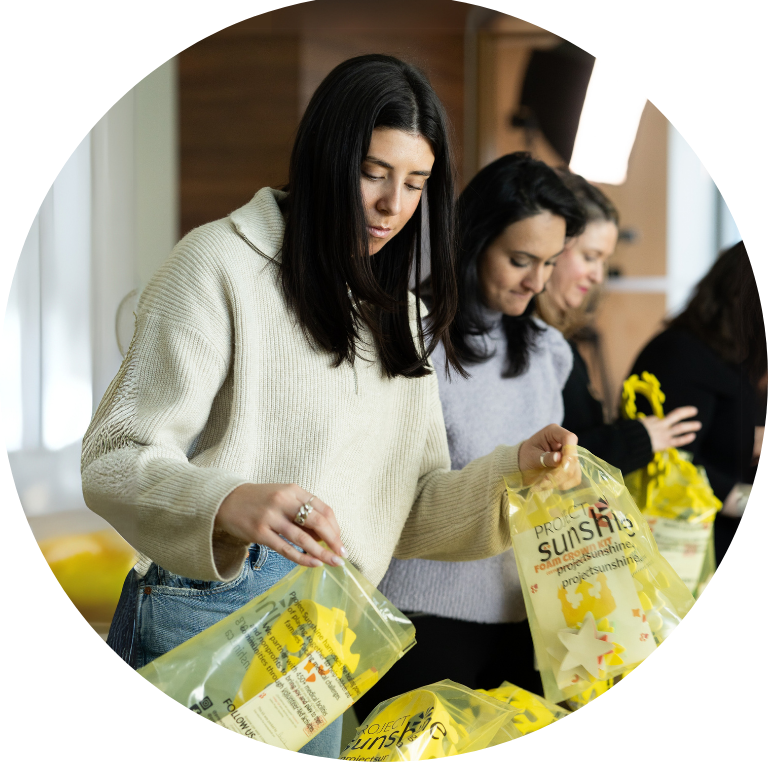 Kits for Play

Volunteers gather as a group to assemble our activity kits that will be sent directly to pediatric patients.
Project Sunshine activity kits contain arts and crafts materials for children to use and play with during their hospital stay.
Project Sunshine sends all the materials you need to pack activity kits to your chapter.
In one hour, you can pack 100 kits for 100 children!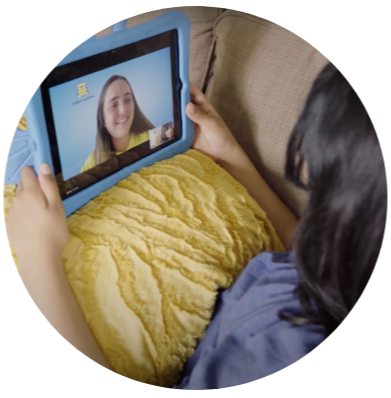 TelePlay

Volunteers facilitate a 1-2 hour virtual play session on a secure and HIPPAA-compliant Zoom call with a small group of children. Teleplay sessions are held remotely.
Project Sunshine provides a Game Library for you to pick activities from, a PowerPoint template, and script to help facilitate the session.
Here to Play brings a group of local volunteers to your facility dressed in yellow Project Sunshine t-shirts, equipped with creative arts and crafts materials to the unit of your choice. In addition to our comprehensive training, our volunteers will go through any additional hospital required clearance process and can provide proof of COVID and Flu vaccinations. You select the frequency, date/time, and our volunteers will handle the rest!
Project Sunshine's TelePlay program is a live play experience, using a HIPAA compliant technology platform. TelePlay provides developmentally appropriate, engaging activities and games led by volunteers, including skilled volunteers like artists and musicians, and is open to any child facing medical challenges in or out of the hospital.
Project Sunshine activity kits deliver safe, creative play directly to children. The materials spark joy and provide therapeutic value to the physical and emotional healing process. Each year, we send out close to 100,000 activity kits to medical facilities all around the US and Canada. Our partners distribute the activity kits to patients in areas like pediatric wards, emergency rooms, clinic waiting rooms. Activity kits are assembled by tens of thousands of volunteers who understand the importance of play for pediatric patients.
Fundraising for Project Sunshine is a great way to support our causes and initiatives domestically and internationally. In addition, to assembling sending sunshine activity kits for our hospital partners.
contact us
for further details.
Open Opportunities
Here To Play opportunities
Don't see something for you? If there are no opportunities in your area or that fit your schedule, check back soon or email us at community@projectsunshie.org about being put on the waitlist.
Teleplay and Kits for Play opportunities
Please reach out to your chapter leader for available opportunities near you.
Community Volunteer Application
Thank you for your interest in becoming a Project Sunshine community volunteer! Before applying, please ensure you are available for an open opportunity. If there are none available at a location and time that works for you, email us at community@projectsunshine.org to be put on the waitlist.
Due to medical facility need and resources used to onboard, we require volunteers to make a consistent one year commitment.
After you have completed the application below, you will receive an email with a link to register for an upcoming volunteer training. If you do not receive that email or have any questions, please email community@projectsunshine.org.
What do college chapter volunteers do?
College Chapter volunteers have several opportunities to support Project Sunshine's mission. They facilitate play sessions in hospitals and virtually, pack activity kits on campus, and organize fundraising events.
Does each chapter have a fundraising minimum?
College chapters are required to meet a $500 fundraising goal each year.
How often do chapters pack activity kits and how would my chapter request Sending Sunshine Kits for Play?
College Chapters are required to host two kit packing events per year, one per semester, though many chapters host more. Chapter Leaders can access an order form through a unique URL found in their Salesforce account details tab.
Can I reach out directly to a local medical facility to initiate a partnership?
Project Sunshine will conduct outreach and develop partnerships with medical facilities to ensure consistency and accountability. If you have a contact at a medical facility you want to partner with, please fill out this form.
What is the minimum commitment for Chapter Leaders to serve?
Chapter Leaders are required to serve one academic year at a minimum and encouraged to serve longer.
What resources are provided to Project Sunshine Chapter Leaders?
Support from headquarters and trainings

Technology Applications: Microsoft Office 365, Salesforce, Zoom

Program and marketing materials

Professional development opportunities
Access to a network of over 75+ college chapters across the country
How do I learn more about the College Volunteer Program?
Don't hesitate to contact us with any other questions. In your email, please be sure to provide your name, school, and location.
I am a new volunteer. Will I receive training?
You got it! All of Project Sunshine's volunteers are trained by staff or trained Chapter Leaders. Following the submission of your application you will be prompted to sign up for a New Volunteer Training which can last 45-60 minutes. Following the training, you will watch a 30-minute Engagement Video and complete a 12-question quiz. After you've passed the quiz, your Chapter Leader will reach out within two weeks. If you have not received communication from them, please reach out to us at college@projectsunshine.org.
How can Greek & Student organizations support Project Sunshine?
Fundraising for Project Sunshine is a great way to support our causes and initiatives domestically and internationally. If you would like to fundraise for us, please contact us at college@projectsunshine.org.
You can also volunteer through our Here To Play, Teleplay, and Kits for Play programs by collaborating with a college or community chapter. Please contact us at college@projectsunshine.org for more information.