Community Volunteers Deliver Critical Support to Children
Project Sunshine volunteers deliver play and activities to children in need of socialization and human connection to help them cope while they are dealing with medical challenges. Play allows children to learn, explore, and it enables them to heal. (According to the American Academy of Pediatrics, play is one of the most effective methods of reducing stress in kids!)
About Community Volunteers
Through volunteering, individuals provide critical support to pediatric patients and their families, give back to the communities where they live and work, broaden their personal networks, and connect with other compassionate volunteers.
Community volunteers belong to local chapters. Community chapters are comprised of passionate individuals, 18 years and older, who are interested in community service and dedicated to Project Sunshine's mission.
Project Sunshine has active Community Chapters in the following locations across the United States: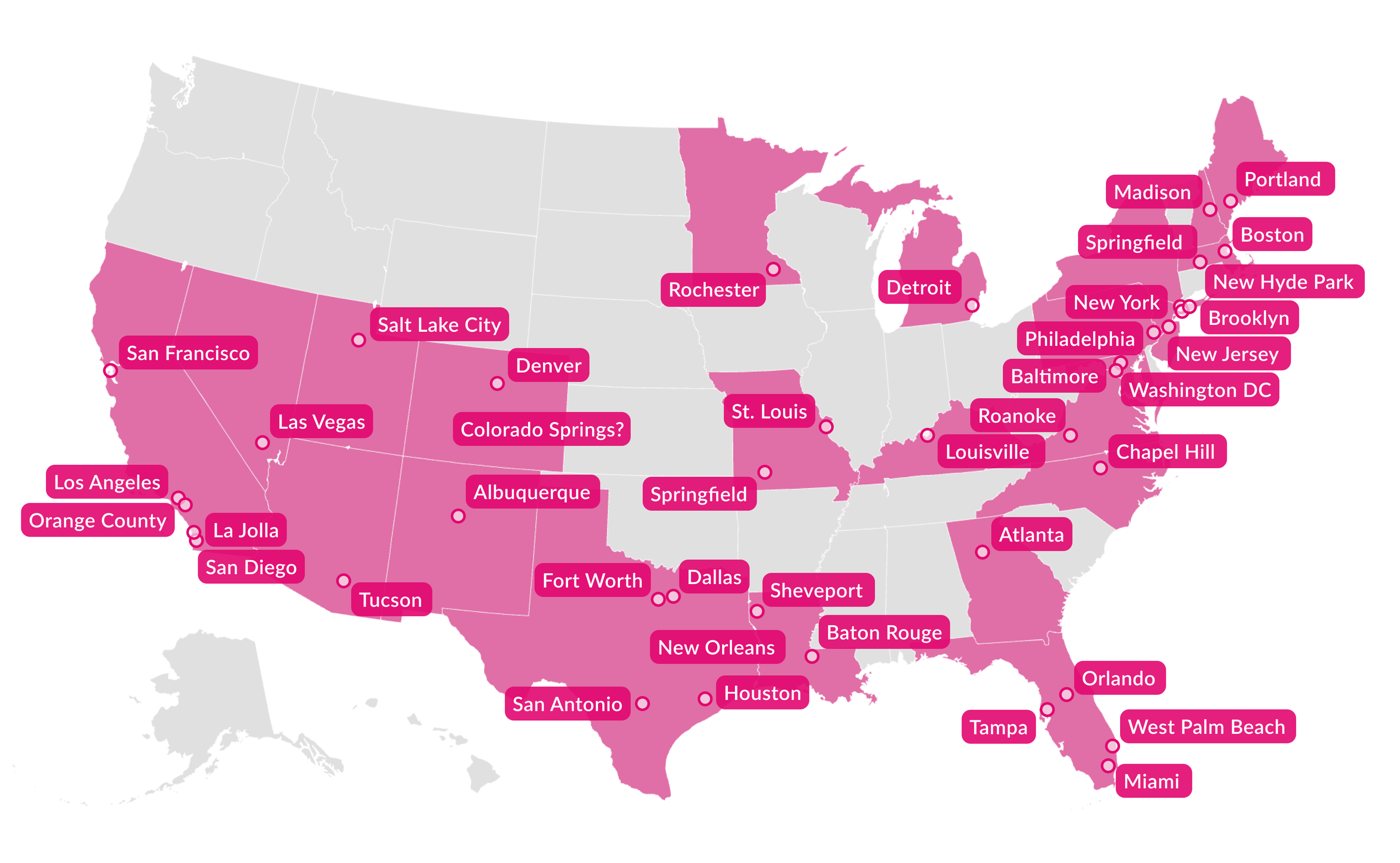 The Process for Becoming a Community Volunteer
We are committed to making the training accessible and time manageable to you, our volunteers, while also ensuring that you are well-prepared to engage with an important and vulnerable population. Here is what to expect from our volunteer application process:
FAQs
What if there isn't a chapter in my area?
Please reach out to community@projectsunshine.org and provide your location and, if applicable, desired facility interest. You may also apply to be a virtual volunteer found under the chapter listing on the applications. We appreciate your interest and patience!
Is there a minimum time commitment?
For Chapter Leaders, we ask for one year commitment. Otherwise, volunteering with Project Sunshine is flexible. Frequency of volunteering will vary per chapter and you can sign up for the sessions that fit your schedule.
I am a new volunteer. Will I receive training?
You got it! All of Project Sunshine's volunteers are trained by staff or trained Chapter Leaders. Following the submission of your application you will be prompted to sign up for a New Volunteer Training which can last 45-60 minutes. Following the training, you will watch a 30-minute Engagement Video and complete a 12-question quiz. After you've passed the quiz, your Chapter Leader will reach out within two weeks. If you have not received communication from them, please reach out to us at community@projectsunshine.org.
Is there an age requirement to volunteer with Project Sunshine?
For you to volunteer with us, you must be 18 years or older. If you are under the age of 18, please click here for more information on family volunteering. We also have opportunities for young leaders to join our Youth Advisory Council.
Can you be affiliated with both a College and Community Chapter?
Yes, you can be affiliated with both your College Chapter and your local Community Chapter.
How do I become a Community Chapter Leader?
You can become a Chapter Leader by submitting an volunteer application on our website and then email us at community@projectsunshine.org to organize a Zoom Conference "interview" with our Volunteer Engagement Team.
How long does the Chapter Leader process take?
Chapter Leaders serve a minimum of a one-year term. The training process can take up to a month to learn applications like Microsoft Office Suite, Salesforce, and more.
What if I haven't heard from my Chapter Leader within two weeks of completing the volunteers trainings?
Once you have successfully completed the new volunteer trainings and quiz, please allow up to two weeks for your chapter leader to welcome you. If you do not hear from them within two weeks, reach out to community@projectsunshine.org.
Can Project Sunshine verify volunteer hours?
I am a previous volunteer. Do I need to go through training again?