March is Child Life Month, and as part of this month, we are highlight Ivana Man, a Child Life Specialist from Harlem Hospital.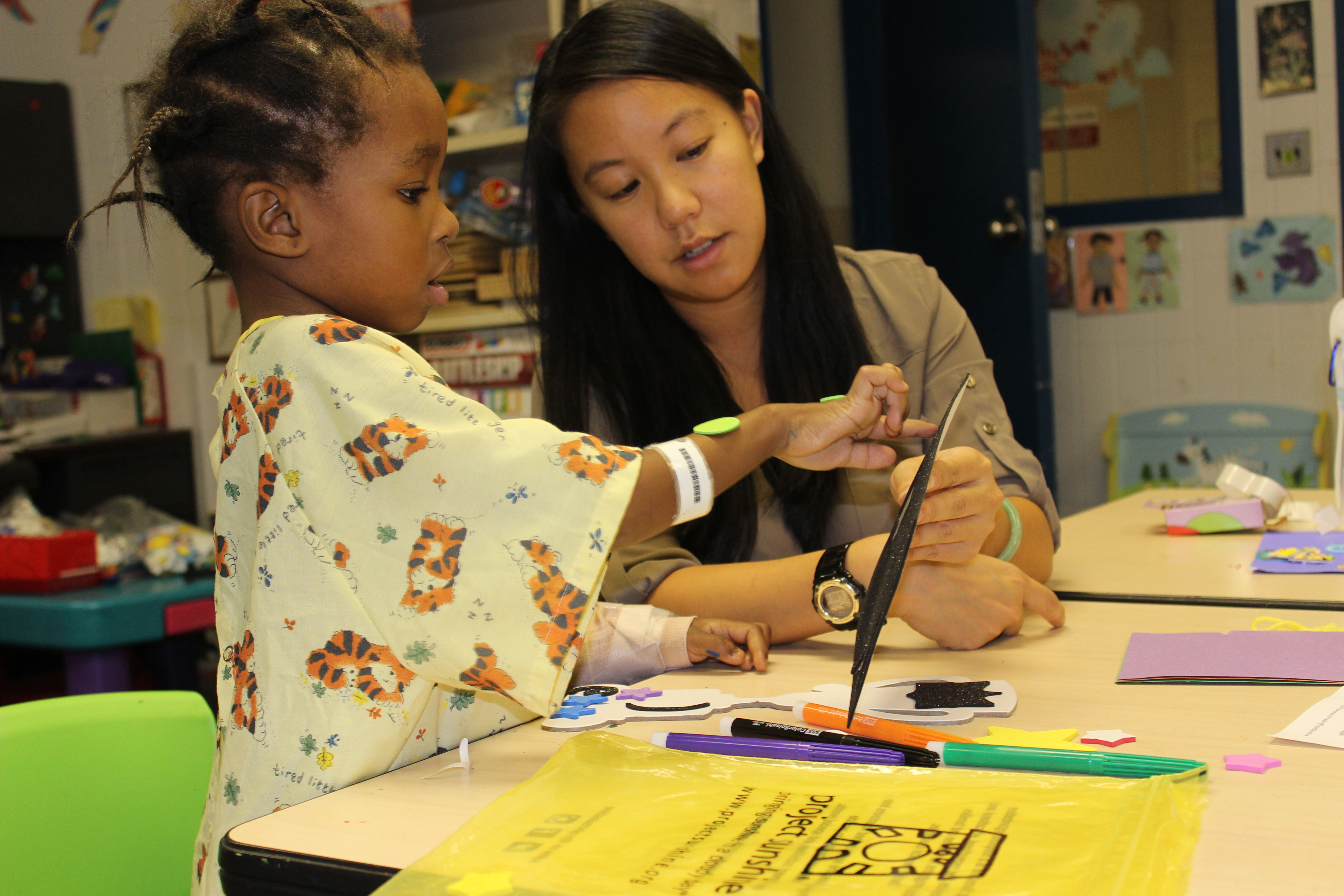 "I don't think my program would be successful without Project Sunshine."
– Ivana L. Man
Ivana Man has found an easy way to introduce herself to new patients: "I'm the happy person at this hospital," she tells them, and even without her festive sweater featuring a pair of be-pompomed llamas sporting sunglasses, the truth of her statement would have quickly been obvious. The architectural coil atop her head, which might look right at home in a modernist version of Whoville, is simply the icing on this particular cake.
Ivana's actual title is Child Life Specialist, but the Happy Person is a lot catchier. Ivana is a one-person show at Harlem Hospital, the only CLS on staff. Many children's hospitals have a host of Child Life Specialists, whole teams of them, but Harlem isn't exclusively a children's hospital, so Ivana goes it solo. Her office is filled with materials that support her work—a developmental activity ball, stacks of arts and crafts, a shelf of crayons. The arms of her sweater are made of multi-color sequins which flash with the light as she gestures. She has a big smile, long dark hair, and says she's always wanted to work with kids: "sitting on the floor next to a child is where I'm most comfortable."
In the course of proudly describing Harlem Hospital's robust pediatric resources—an Emergency Room, inpatient and outpatient facilities, a pediatric ICU—Ivana mentions matter-of-factly that because Harlem is a Level II Pediatric Trauma Center, "we also get a lot of the stabbings, gunshots, and more serious injuries." In addition to being the Happy Person, Ivana's job includes explaining to pediatric patients, in their own language, what's happening. "And, hopefully, I can make the hospital less scary for them," she smiles. Ivana's charge is to reassure and explain, and then to help kids find a way to still be kids, even in the midst of a medical environment.
COVID-19 has made her job more challenging, but at least her Pediatric Department is still open—some smaller hospitals have closed or moved theirs to free up space for adult patients infected by the virus. Her playroom is shuttered, and even the littlest kids are only allowed to have one person with them on site, no additional family members, without exception. With nowhere to go and little to do, pediatric patients end up staring at phones or tablets or the television all day, and that's where the resources provided by Project Sunshine have made all the difference.
Project Sunshine's activity kits were an important resource pre-COVID, and now, Ivana says, "they are more important than ever. The kits provide distraction and a sense of normalcy during a very anxious time in the hospital." Ivana and her Project Sunshine chapter leader, Kate, brought Teleplay to Harlem Hospital in the fall, and Ivana smiles broadly: "it was so wonderful to have my chapter leader back 'in' the hospital with the patients. The patients have loved the teleplay, and sometimes even the parents get involved!"
"Project Sunshine is one of the best things about my job at Harlem Hospital," Ivana goes on, "I utilize the programs and kits all the time." Harlem's patients come largely from the surrounding community and from the Bronx, mostly low-income neighborhoods where the stress of a sick child can take a toll on the whole family. "Our parents might not have the extra finances to spend on crayons or coloring books," Ivana says frankly, "and so to be able to give those to them to take home is amazing."
Being the only Child Life Specialist on staff isn't always easy, and while the still-developing field has a way to go in terms of being universally valued by hospital administrations, diversifying what is currently a largely white, female, workforce, and easing barriers to entry to the job itself, Ivana doesn't regret her choices: "I love my job, I love being at Harlem, and I love what I do."
The support Ivana gets from Project Sunshine was meaningful pre-COVID; in the midst of a pandemic the importance of that support has been made even more clear. Ivana can be the Happy Person at Harlem Hospital because she has a host of Happy People who back her up, from her "fantastic" boss and colleagues to all of people who contribute to making Project Sunshine's support a reality. Ivana calls Project Sunshine "an extension of me," and that makes a difference for not just for her, but for every kid who shows up at Harlem Hospital sick or injured. In addition to top-notch medical staff and an administration dedicated to their medical care, there's always a ray of sunshine, something from the Happy People, there to meet them.