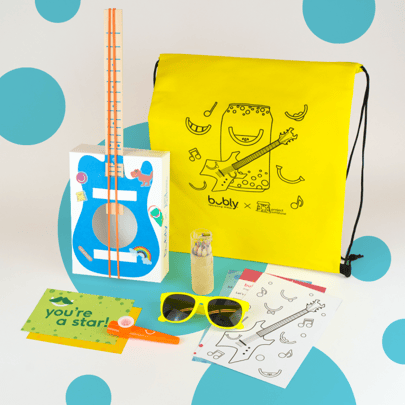 Project Sunshine and bubly sparkling water have teamed up for a second year to create special "bubly beats" activity kits to encourage music-themed play and create a crucial sense of normalcy for pediatric patients. Hear from Zach Harris, Vice President of Water Portfolio, PepsiCo Beverages North America, about the impact these activity kits are making and why bubly and Project Sunshine make for powerful partners in spreading joy and play to pediatric patients.
Project Sunshine and bubly partnered in 2020 to create the bubly Beats Activity Kits for pediatric patients across the United States. Why did bubly decide to partner with Project Sunshine again?
Harris: Like Project Sunshine, bubly exists to make everyday life more playful. Last year we partnered with Project Sunshine to help bring a sense of comfort to hospitalized children who were isolated due to stricter hospital visitation policies during the height of the pandemic. The music-themed bubly Beats Activity Kits served as a way to bring joy and play to pediatric patients across the country. We're excited to continue our collaboration this year and provide kits to even more children.
Play is at the center of Project Sunshine's mission, and it's also part of the bubly brand. Why is play important to bubly?
Harris: bubly brand's mission is to make everyday life more playful, searching for big and small ways to help those who may need them crack a smile. Play is a big part of that, as our friends at Project Sunshine have taught us, play is healing. These pediatric patients deserve to play like any other kid, so helping bring them music themed play with our bubly Beats Activity Kits at a challenging time in their lives is very rewarding.
This year we are launching a new kit together. Tell us about this kit.
Harris: We're continuing to provide pediatric patients the power and joy of music and this year we are adding materials for kids to make their own guitar, while bringing back some of the more popular items from last year like decorating a pair of rockstar sunglasses, and composing their next big hit on song writing sheets. We can't wait to see how kids across the country bring these creations to life and show off their inner rockstar.
These kits bring the power of music to pediatric patients. Why did bubly choose this theme for patients?
Harris: As we know from our partnership with Michael Bublé, music can be therapeutic, boost your spirits and fuel creativity, which makes it a perfect theme to encourage play and see kids facing medical challenges crack a smile. We wanted to bring the power of music to pediatric patients facing tough circumstances and encourage play along the way.
bubly and PepsiCo employees will also be packing these kits before they head off to children in hospitals. Why is this volunteering experience important to the bubly team?
Harris: Being community-minded is a key aspect of the PepsiCo culture. Volunteering with Project Sunshine to create the kits that we've collectively designed is extremely meaningful to us. It's a great way for our team to connect with our work in a deeper way and see the impact first-hand that we can make in our communities.