Note to all mobile users: Please rotate your device sideways to activate landscape mode and view the staff gallery.
Board of Directors
Meet the passionate individuals who serve on our Board.
---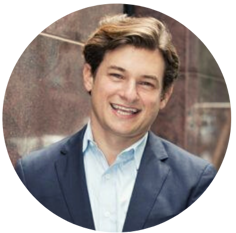 Joseph Weilgus

Founder & Chairman of the Board, Project Sunshine; CEO, New Legacy
Despite his youthful persona, Joe founded Project Sunshine as a college student…many years ago. When he isn't helping pediatric patients find their smiles, Joe spends his spare time as the CEO of New Legacy Group, an SEC registered investment advisory firm. Joe has a B.S. in Accounting from Yeshiva University and has participated in executive education programs at Harvard Business School.
CHILDHOOD FACT: Joe was an undefeated NCAA tennis player.
---
Quemuel Arroyo
Chief Accessibility Officer, NYS Metropolitan Transportation Authority (MTA)
Natan Bibliowicz

Stephanie Glenn
Senior Vice President, Commercial Marketing Cloud, Salesforce
Michael Goldman
President & COO, NFP
Gerald M. Loughlin, M.D.
Shawn McGowen
Founder and CEO, Leather Honey
Meg Moloney
Nonprofit Executive and Strategic Consultant
Agapito Morgan
Senior Vice President, Key Bank
Bernard M. Rosof, M.D.
CEO, Quality in Healthcare Advisory Group, LLC
Amy Saperstein
Founding Executive Director, Project Sunshine
Matthew Skurbe
Chief Operating and Financial Officer, CC Capital
Gireesh Sonnad
CEO and Co-Founder, Silverline
Stacy Taffet
Senior Vice President of Brand Marketing, Frito-Lay at PepsiCo

Reed V. Tuckson, M.D.
Managing Director, Tuckson Health Connections
Albert Tylis
Tylis Family Foundation
Caryn Stoll Unger
Robin Wilpon Wachtler, MSW
Howard Weiser
Partner (retired), PwC
Erica Zimmerman
Senior Director of Marketing, PepsiCo
Our DEI Commitment
Project Sunshine is committed to developing and sustaining a culture within our organization that continues to assess and improve our work around Diversity, Equity and Inclusion.