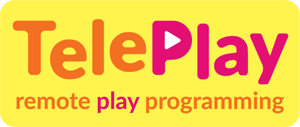 Live, interactive play and activities for children and families!
Watch how TelePlay is making an impact:
Project Sunshine's TelePlay program is a live play experience, using a HIPAA compliant technology platform. TelePlay provides developmentally appropriate, engaging activities and games led by volunteers, including skilled volunteers like artists and musicians, and is open to any child facing medical challenges in or out of the hospital.
All participants must sign a consent form before every session that assures and reinforces our commitment to privacy. Once participants have registered for a session an email will be sent from
teleplay@projectsunshine.org
with the Zoom link and passcode.
TelePlay Game Library
Flip through our newly released TelePlay Game Library and find the perfect TelePlay program for your patients/children! With dozens of games and activities listed, our TelePlay Game Library makes it easy to find engaging and appropriate TelePlay games, sorted by age-range and category.
Check out the resources for children and families below:
Interested in signing up?
Follow our quick tutorial on registering for a TelePlay session.