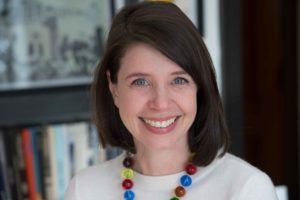 NEW YORK – The Board of Directors of Project Sunshine has appointed Whitney Namm Pollack as its Executive Director. The appointment was announced by Joseph Weilgus, Founder and Chairman of the Board of Directors.
"On behalf of the Board of Directors, I am thrilled to welcome Whitney to lead Project Sunshine," says Mr. Weilgus. "Whitney's passion for the organization's mission and her leadership in the field will usher in a new era for Project Sunshine – building upon the organization's history as a pioneer in children's health and expanding the impact of our signature programming."
Ms. Namm Pollack brings to the position an impressive record as a nonprofit executive in fundraising and communications. Over the past twenty years, she has built upon her accomplishments at organizations including the 92nd Street Y, Robin Hood Foundation, University of Pennsylvania, and Ethical Culture Fieldston School. She has extensive experience leading successful capital campaigns and has worked to develop long-range strategic plans. Most recently, Ms. Namm Pollack served as Interim Executive Director for EB Research Partnership, a national medical venture philanthropy focusing on the rare pediatric disease, Epidermolysis Bullosa.
Of her new role, Ms. Namm Pollack states, "I am delighted to be joining Project Sunshine, whose mission is dedicated to improving the lives and experiences of 150,000 pediatric patients and their families. I look forward to working with all members of the Project Sunshine community to continue to build on this dynamic organization's extraordinary history and its exciting future."
DRG Search's Sue Waterbury and her team led the engagement process. In July, Ms. Namm Pollack will become the third full-time Executive Director of Project Sunshine in the organization's 20-year history.
About Project Sunshine
Project Sunshine is a New York City headquartered organization that addresses the psychosocial and developmental needs of pediatric patients and their families. Over 18,000 trained volunteers bring evidence-based, immersive programming to more than 150,000 children facing medical challenges and their families in 175 cities across the United States and in three international locations: Canada, Israel, and Kenya.
Volunteers-led programs provide opportunities for play, intellectual stimulation, and socialization – ensuring childhood remains a place of wonder. Programs are adapted to the strengths of each patient, family, and community to ensure recognition of their own agency and achieve behavioral and generational change. More information about Project Sunshine is available at www.projectsunshine.org.
Contact
Project Sunshine
media@projectsunshine.org