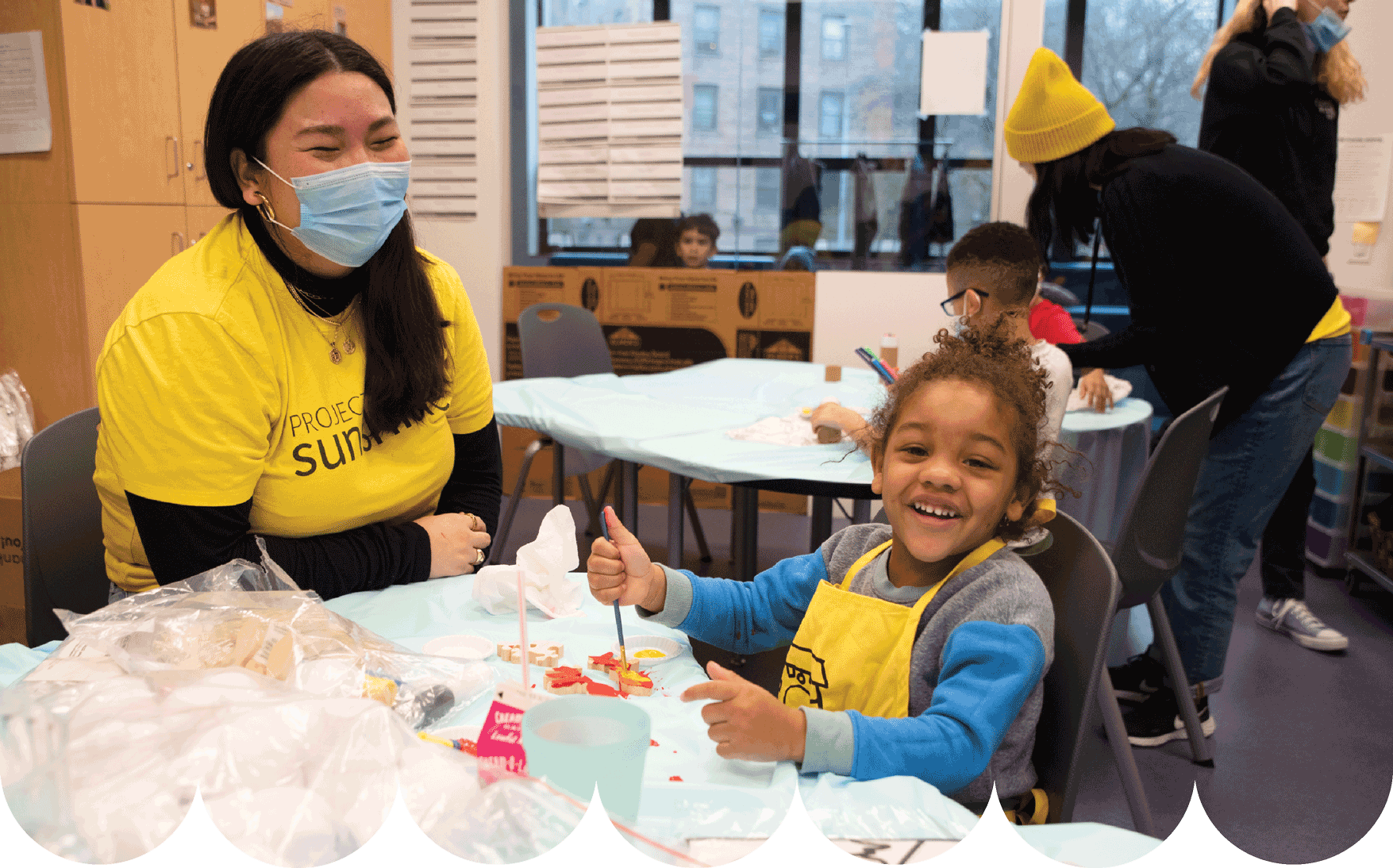 Our Reach
by the Numbers
197,194 patients & families reached
16,429
volunteers
62,943

volunteer hours
486

hospital & nonprofit partners
Our Mission
We deliver the healing power of play to children with medical needs through trained and dedicated volunteers.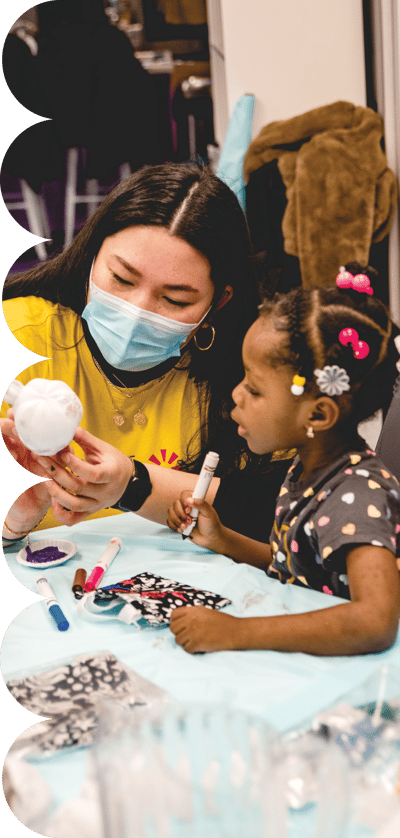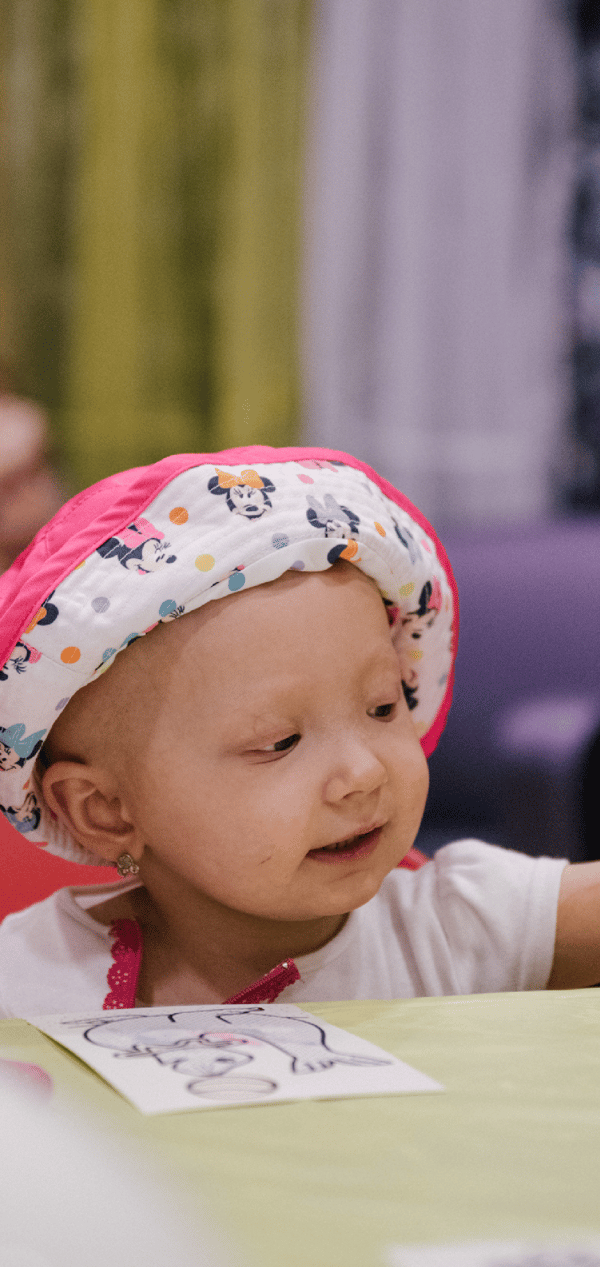 Play is...
brain building
research-backed
experimentation
self-expression
powerful
healing.
Unfortunately, illness and hospitalization are traumatic and lead to emotional changes for both patient and family:
• Children with medical challenges regularly endure disruptions in routines and relationships, and experience pain, loneliness, fear, and loss of autonomy.
• Parents and caregivers are at risk of long-term traumatic stress.
• Siblings are acutely at risk of adverse developmental and psychological outcomes, such as emotional fragility, behavioral issues, academic problems, and family conflicts.
Project Sunshine delivers healing play to children in 48 states in the U.S.
and 3 international countries, through 486 hospitals and partners, alongside more than 16,000 volunteers.
Here to Play
In 2022, Project Sunshine volunteers returned to hospitals after a long hiatus due to the pandemic. We were glad to be back seeing patients face to face. Yet, our team needed to adapt quickly to new hospital rules and policies post-pandemic, adjusting recruitment and onboarding strategies as needed. We're amazed to know that our volunteers are dedicated more than ever to ensuring we serve more children and families than ever before. Today, volunteers are seeing an average of 11 children and family members per visit (compared to six pre-pandemic) and they are volunteering six times more than before. We are grateful to our volunteers and our medical facilities who have welcomed us back in and look forward to even more opportunities to bring Here to Play to patients and families.
3,887

patients & families reached
1,094
volunteers
2,149
volunteer hours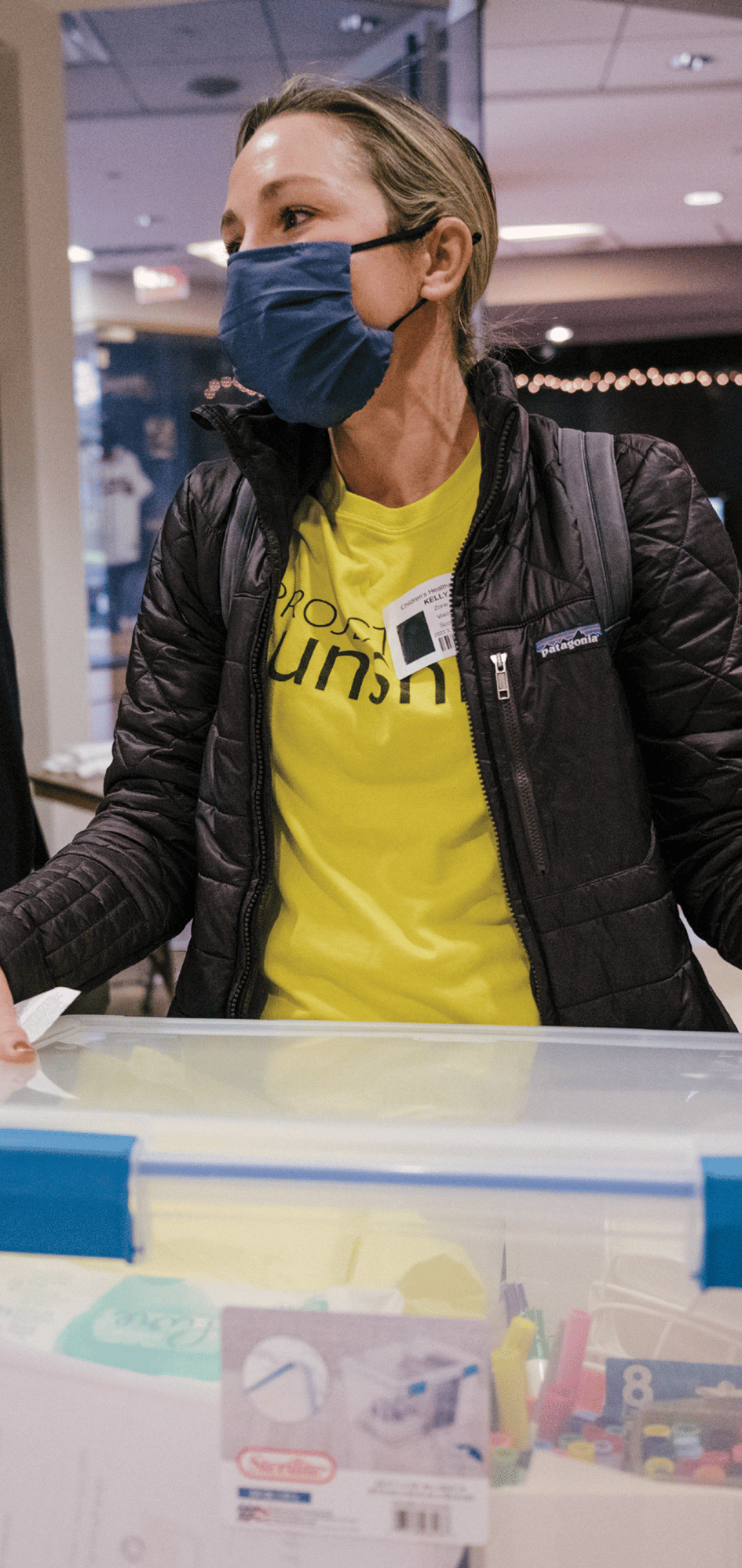 When we were volunteering at The Pediatric Specialty Care Facility, there was an older child living with quadriplegia who was hesitant to come to the playroom. We wanted to meet him where he was comfortable, so we went to his bedside where we discovered that he was a huge Pittsburg Steelers fan. We are too! He lit up being able to share his personal interests with us and it made our day to share it back with him."
– Robyn McKnight, Volunteer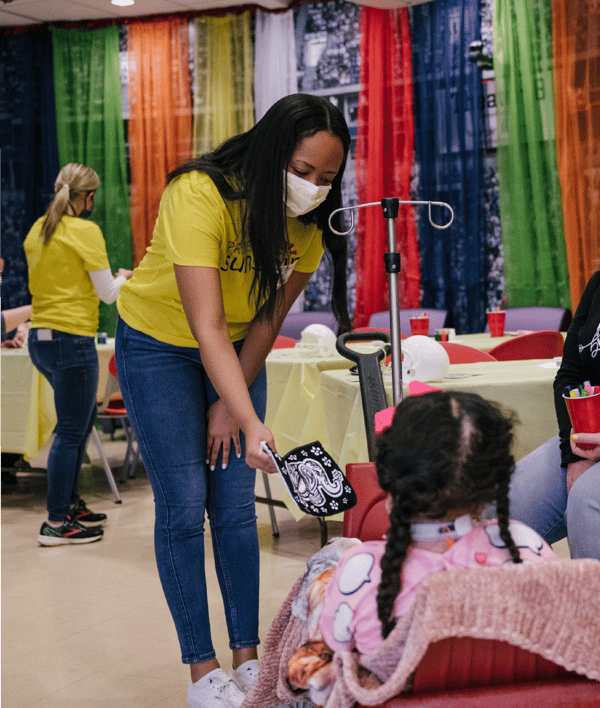 TelePlay
In 2022, we launched the Sunshine Network, with events featuring special guests from the entertainment world, for our community of children and families. This initiative has helped us to build stronger relationships directly with the constituents we serve. We're also excited to launch a new technology platform and app to enhance the TelePlay experience for all later in 2023. We look forward to sharing that experience with our community!
4,570
patients & families reached
1,507
virtual volunteers
1,078
volunteer hours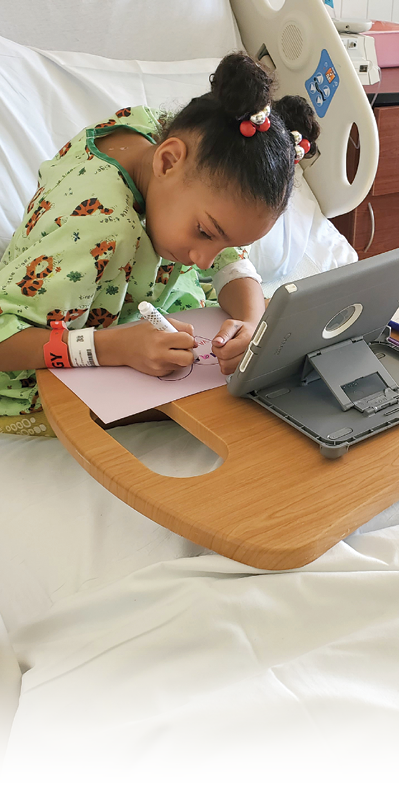 My child just
told me she loves TelePlay more than anything. She doesn't get to play with a sibling, so this is very fun for her."

– Caregiver



We are so excited to expand our partnership with TelePlay to ultimately benefit the patients by providing quality programing, creating smiling faces at even the darkest of times."

- Heather Bailey M.S., CCLS, Child Life
Program Manager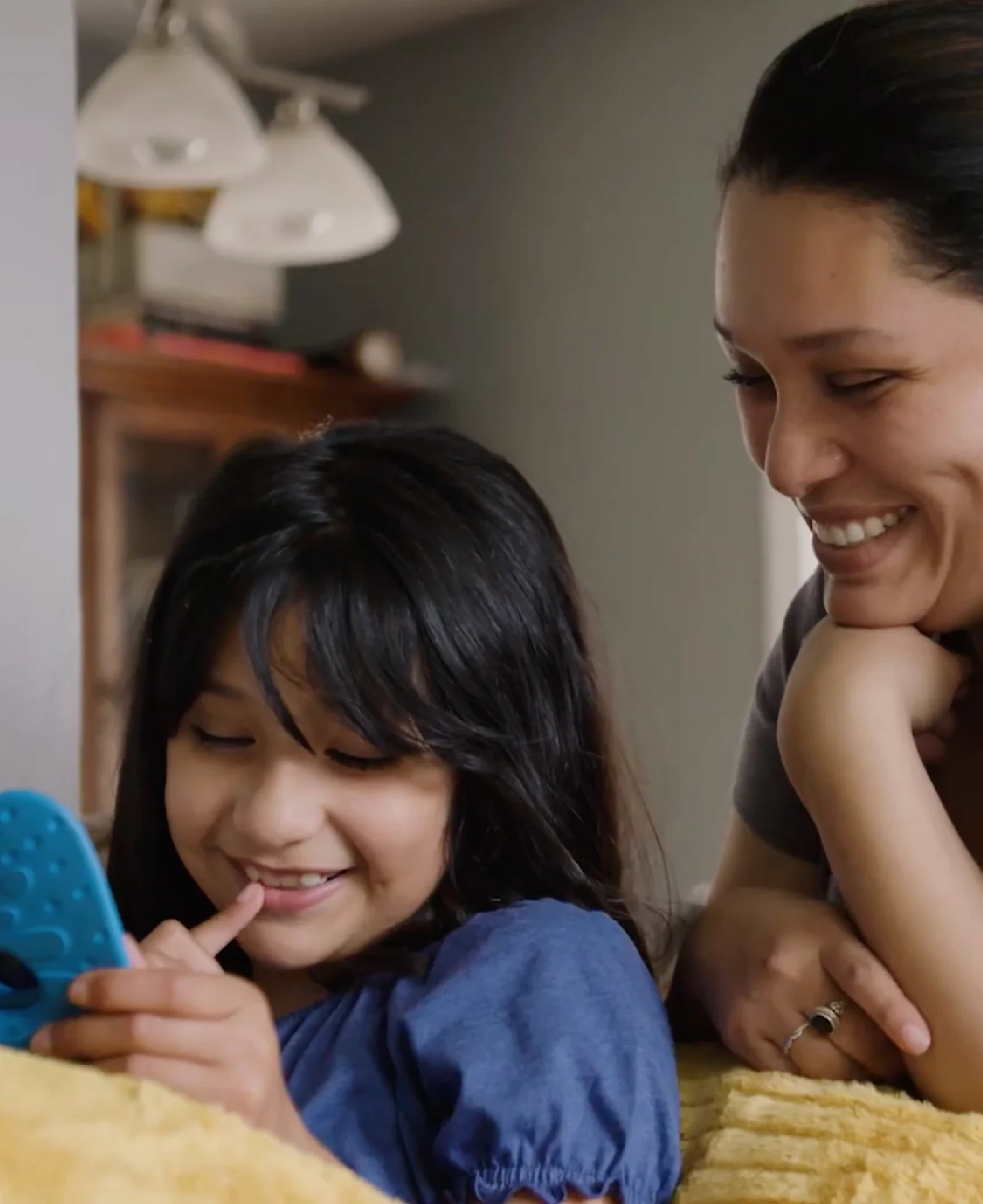 Kits for Play
Nearly 400 hospital partners received kits in 2022. We updated parts of the kit to incorporate the new brand and to better engage our volunteers and patients. In addition, we were able to include our first musical instrument, a xylophone, into our latest co-branded kit, thanks to our partner PepsiCo!
131,397 kits packed & delivered to patients
10,840 volunteers
45,447 volunteer hours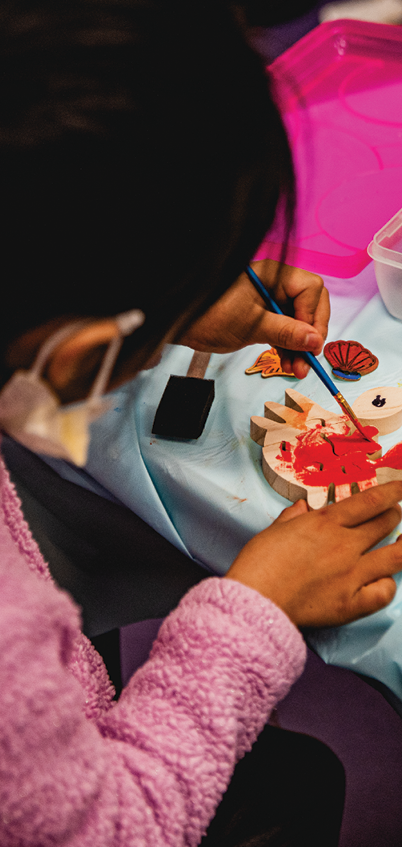 The kits have been wonderful. Parents and children love them. They give the kids something to do while they wait for providers to see them. I enjoy being the person giving them out to our patients. Seeing them smile and decreasing their anxiety by keeping them entertained may seem so minimal, but it truly makes a huge difference for these kids."
—
Elise Garcia,
Family Advocate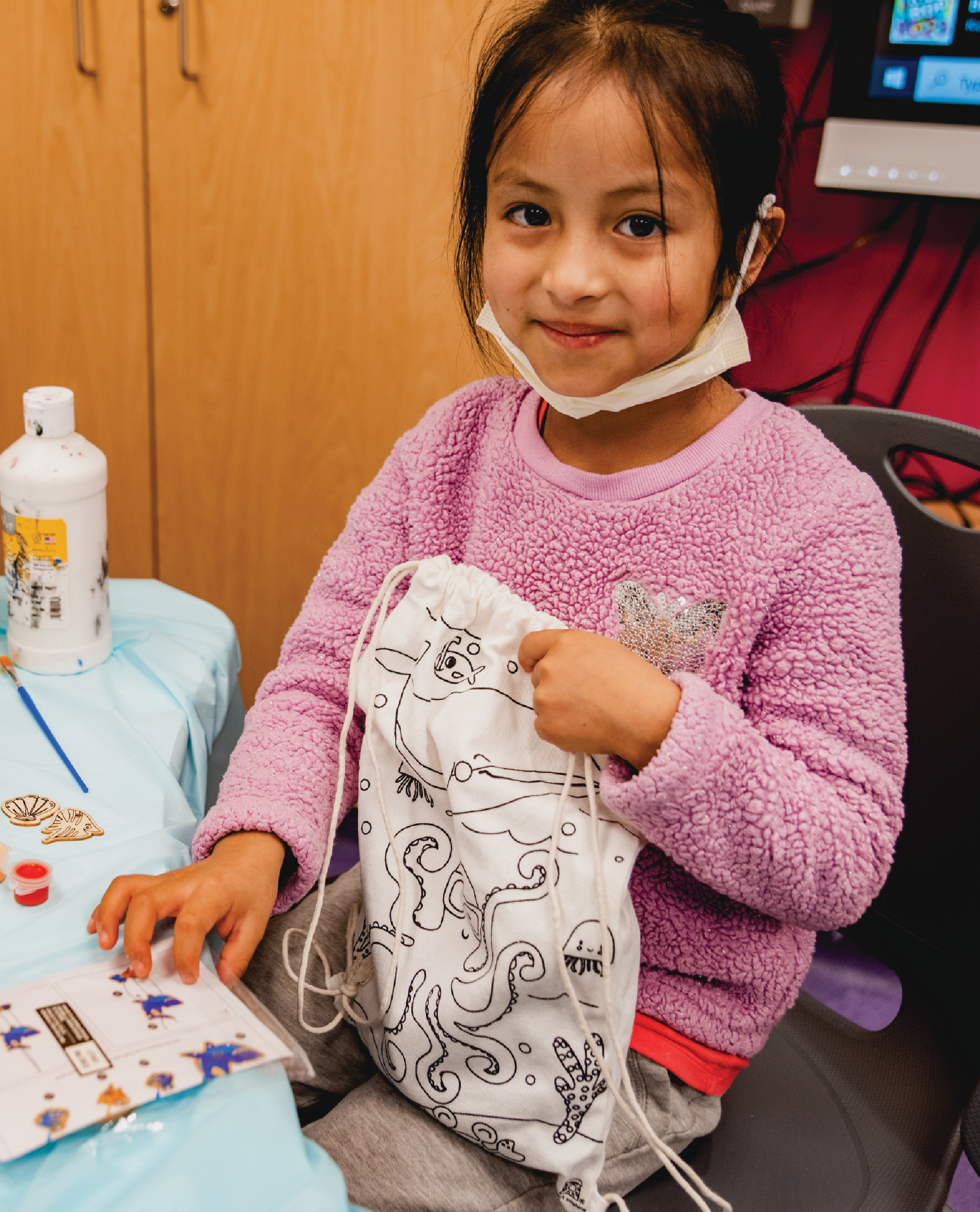 Canada
Based in Toronto and operating in 8 provinces, Project Sunshine Canada mobilizes trained volunteers to provide companionship and deliver enrichment programs to patients and families at 40 partner hospitals across the country. In 2022, we supported 6,675 pediatric patients and families through our programs. Our 19 chapters with 180 volunteers visit patients in hospitals, assemble activity kits, sew Surgi Buddies, and host TelePlay sessions for hospitalized patients all year long.
In April 2022, we began Here to Play programming after a two-year break and ended the year with more partnerships with medical facilities for all three programs. In particular, we were thrilled to relaunch our Caregiver Wellness program at Mount Sinai Hospital of Toronto. "It feels great to be here and taking time for myself," said one parent.
We are also excited to launch a TelePlay en français volunteer chapter in 2023. We spent dedicated time to translate 30 TelePlay games into French and look forward to playing with French-speaking patients and families very soon!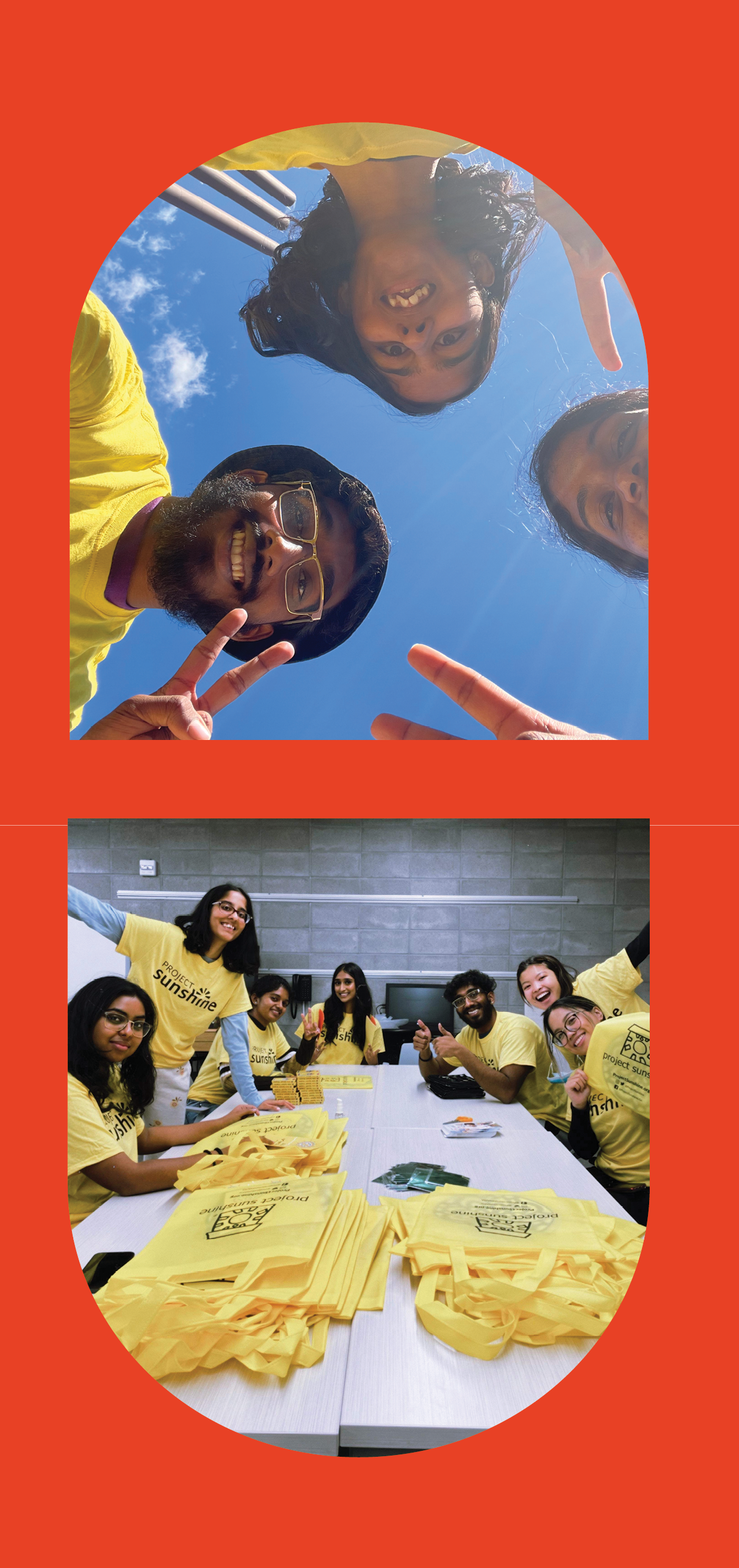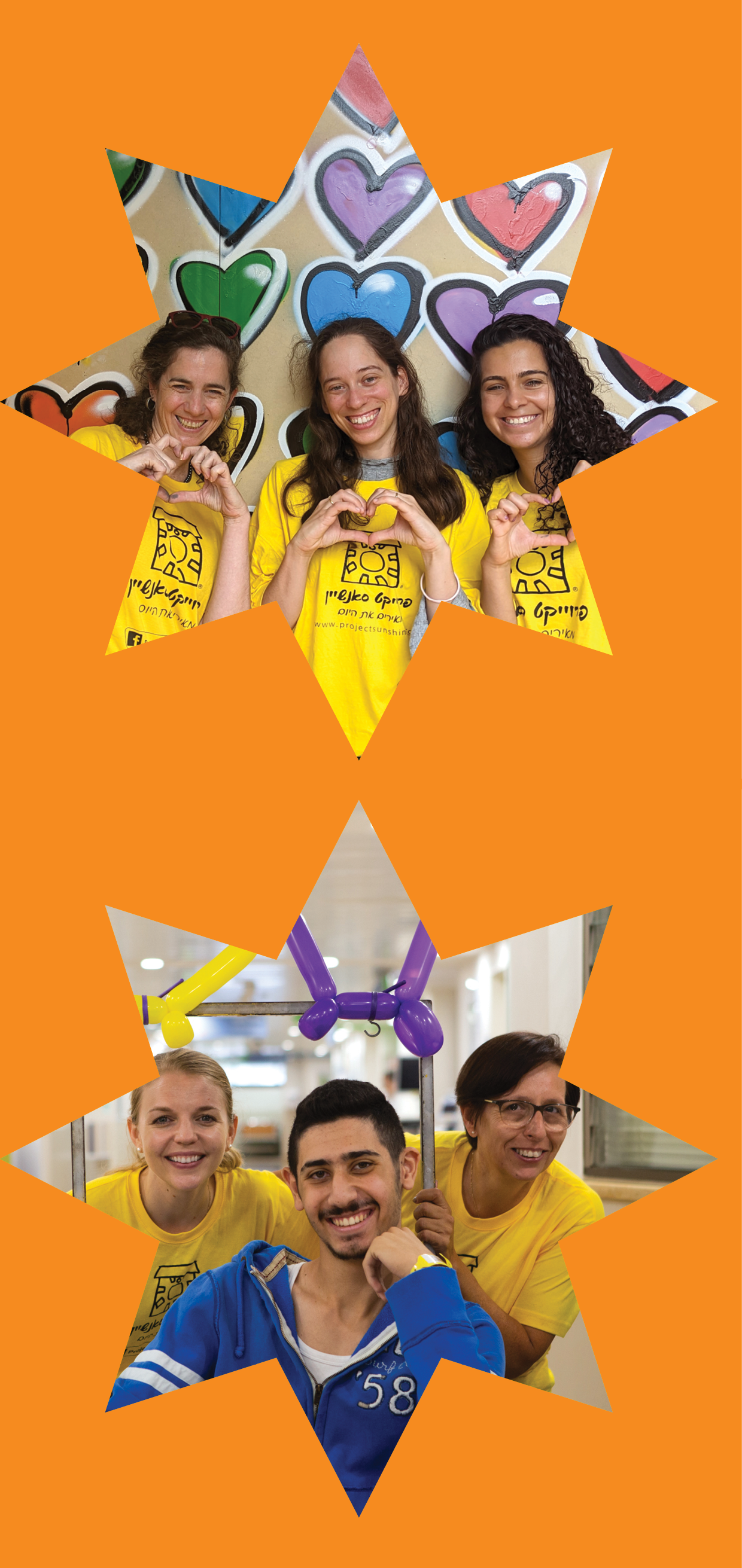 Israel
In Israel, volunteers bring activities to children through bedside services to every child in the hospital ward regardless of age, illness or background. Volunteers also serve children through kindergartens for students with special needs.
Project Sunshine Israel served 7,454 children and families in 2022, a 23% increase over 2021 numbers. We have been focused on getting the volunteers back into the facilities after taking a hiatus during the pandemic. A new team member joined to focus on volunteer onboarding, making it the first time that we have had more than one person working at Project Sunshine Israel!
In September, we held an opening ceremony for Miri's Room at Spivak Kindergarten, a bunker that was converted into an art-making space for children. The room is named for artist Miri Passov, the late mother of Project Sunshine Israel's founder Yuval Passov. We hope to continue the legacy of Miri Passov and serve even more children and families through this room and all of our programs at Project Sunshine Israel.
Kenya
In Kenya, we host clinic-based programming in partnership with Bomu Hospital and its three satellite sites which include special events like World Tuberculosis Day, Global Handwashing Day, orphanage visits, monthly birthday parties, and our signature event, Youth Fun Days. We also run the Healthy Living Initiative where Community Health Volunteers, along with Project Sunshine volunteers, make home visits to teach about water, sanitation, and hygiene (WASH) including homes in last mile areas where families live more than 200 km away from the nearest clinic.
We're incredibly excited to report that we have reached more than double the number of children and families from last year due to the Gilead Science's Zeroing In grant initiative. We increased the number of our chapter leaders from two to four leaders to accommodate. In addition to clinic-based programming where we served 13,261 children, volunteers also made 1,900 home visits through the Healthy Living Initiative. One of the special events from 2022 included World AIDS Day where we attended a five-kilometer procession with more than 1,500 children and families. According to Unicef, more than 100,000 Kenyan children are living with H.I.V. Altogether, Project Sunshine Kenya served 49,341 children and families.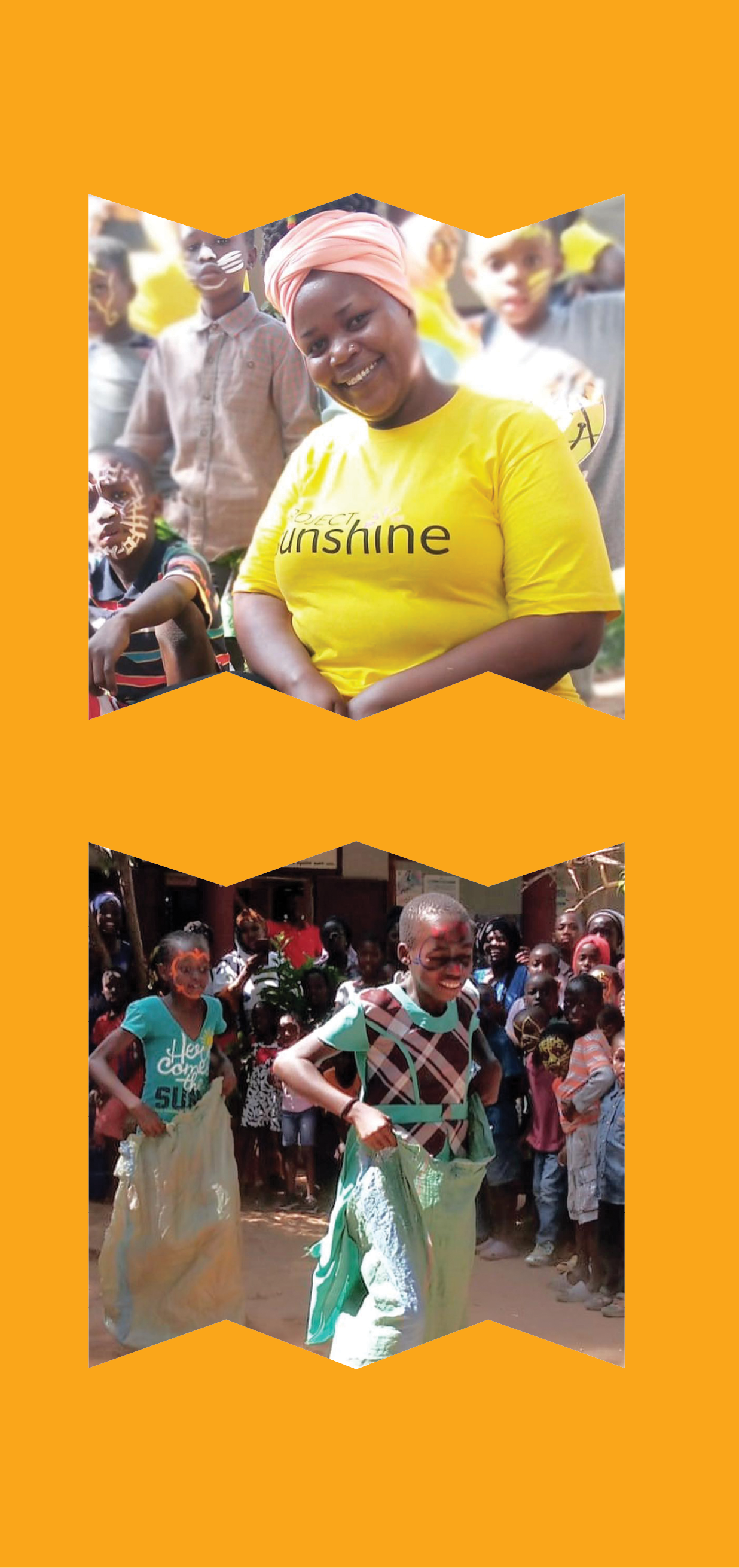 Our partners
Corporate Partnerships
Our Corporate Volunteers are professionals committed to fulfilling the Project Sunshine mission alongside their colleagues. We partner with companies of all sizes and industries nationwide. Through customizable opportunities for community service and teambuilding, our corporate volunteers take a break from their day-to-day responsibilities to make a difference in a child's life.
In addition to strong engagement with our kit packing program which hosted over 450 events last year, we were thrilled to bring back volunteers into hospitals and medical facilities for special events. Arch Insurance hosted a summer graduation and back-to-school event at the East Harlem Asthma Center of Excellence (EHACE). Both events welcomed 150 kids and their families for games, crafts, and face painting. Brooklyn Michaels stores hosted an outdoor summer party at the Brookdale Clinic for nearly 100 kids and families. During the holiday season, we engaged employees from Avance, Away Travel, Blackstone and Canvas to volunteer with four of our hospital partners. "I had the best day volunteering with Project Sunshine," said one Away Travel volunteer. "The activities were organized and appropriate for all. I left with a smile on my face, knowing that I made children smile."
Sunshine Partners:
We want to give a special thanks to our top corporate partners – our Sunshine Partners – who support us through generous donations and thousands of employee volunteer hours:
Arch Insurance
Blackstone
Centene
Genentech
Michaels
Morgan Stanley
Pepsi
RBC
Salesforce
Stack
87 companies engaged
9 hospital events
73,934 children and families served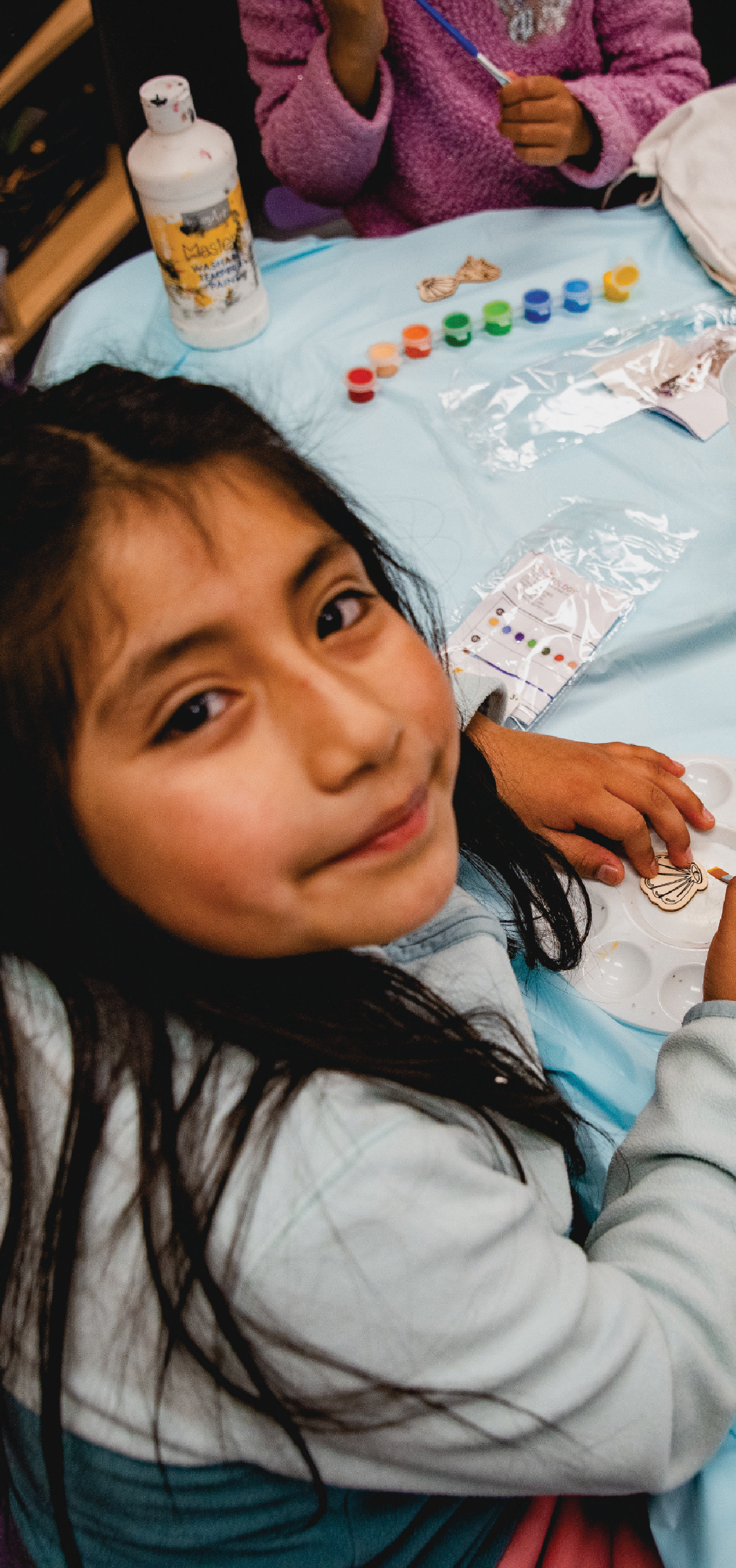 Our partners
Technology Committee
Project Sunshine's Technology Committee is comprised of board members and industry experts and professionals in the technology industry. This year, the Technology Committee assumed an important role to build a new state-of-the-art platform called the Sunshine Platform to increase operational efficiencies in program development, volunteer management, and reporting and analytics.
The Committee was involved in a rigorous Request for Proposal process to identify our partner for platform development. We are happy to report that we have begun the platform build with a Salesforce third party implementation firm, Silverline, and we're looking ahead to launching the first version, or a Minimal Viable Product (MVP), in Summer 2023. We are grateful to these expert volunteers who are driving our mission forward with strategic and invaluable guidance.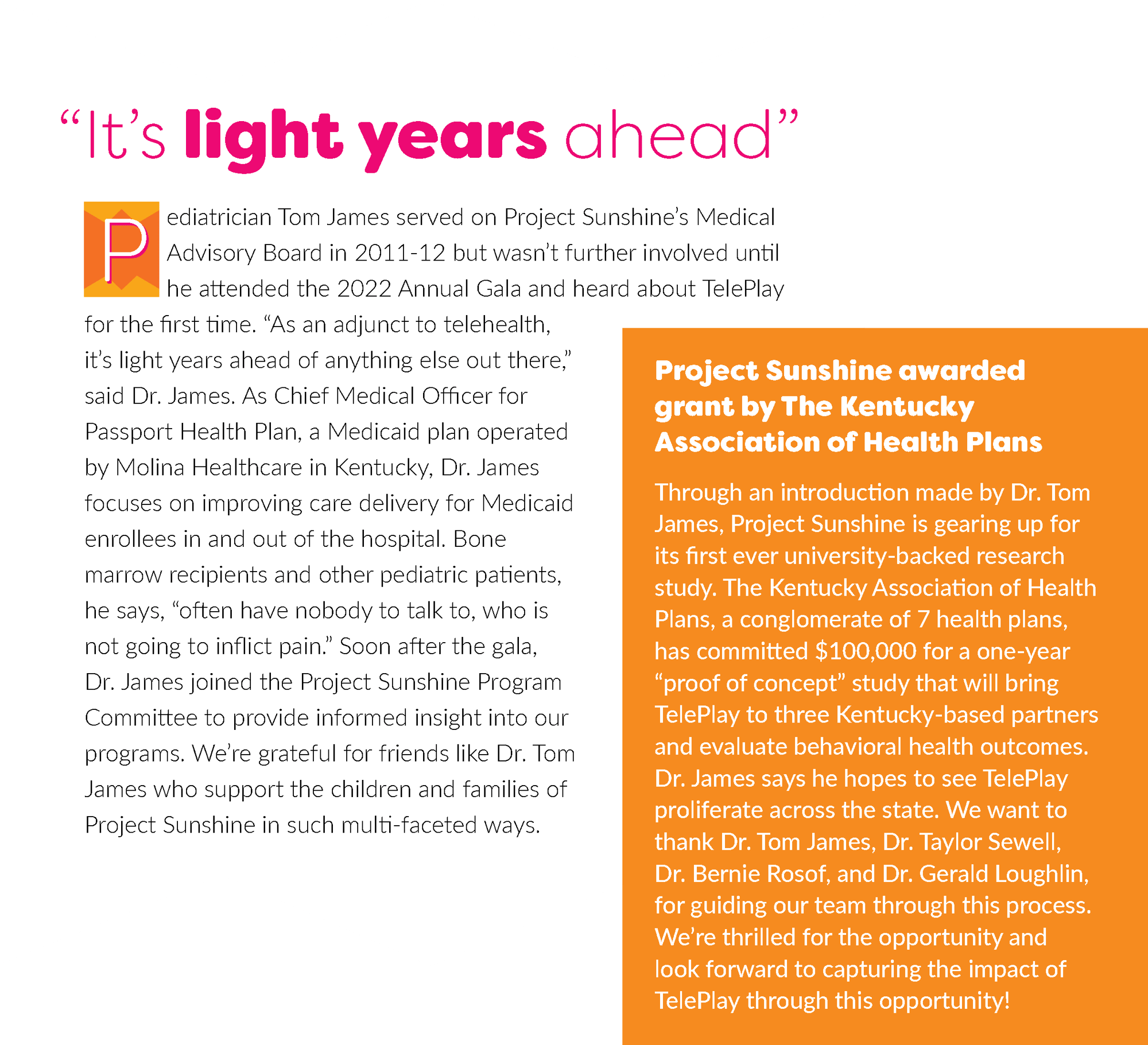 25 Years of Service
and Many More Ahead
In 1998, Joe Weilgus visited a friend in the hospital. Walking by the pediatric wing, he noticed young patients sitting alone in their rooms with nothing to do. Unable to forget what he saw, Joe returned to the hospital the following week dressed up as a clown determined to spread cheer. The rest is history.
Today, Project Sunshine serves nearly 200,000 children and families annually in the United States and abroad in Canada, Israel, and Kenya. Joe's passion and vision has launched Project Sunshine into existence and continues to energize us to reach more children through the healing power of play. Not only has he brought play to millions of children over the past 25 years, but he has also brought purposeful service opportunities for thousands of volunteers.
Joe will transition from his role of Chair of Project Sunshine's Board of Directors into Founder and Chair Emeritus to invite new experience and perspective into the leadership role. Joe will continue to be an integral member of the Board of Directors, providing insight and guidance on major decisions for the organization.
Joe, from all of us at Project Sunshine, thank you for your leadership, your heart, and your dedication to the children we serve each and every day. We wouldn't be here without you.